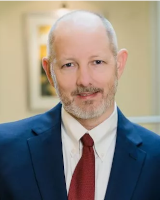 D. Kent Safriet
Firm: Hopping Green & Sams
Location: Tallahassee - FL
119 South Monroe Street, Suite 300




Tallahassee, Florida 32301




USA
Tel : (850) 425-2207

Fax : (850) 224-8551

Email : KentS@hgslaw.com

From small claims to the U.S. Supreme Court, Kent has represented clients in a variety of forums.
Kent's experience in both trial and appellate courts is diverse and varied: from assisting local Florida clients relating to beach and coastal issues, private property rights, takings, contract disputes, class action defense, toxic tort claims, and business litigation to challenging federal halibut fishing regulations in Alaska. Kent assists clients in a variety of trial or appellate cases. His goal is to use his experience to bring a fresh voice and perspective to every case.
Kent argued the seminal judicial takings case entitled Stop the Beach Renourishment v. Florida Department of Environmental Protection, No. 08-1151 before the United States Supreme Court in December 2009 on behalf of property owners.  Additionally, Kent has appeared in over 60 appellate cases resulting in numerous written opinions, including five at the Florida Supreme Court.
EDUCATION
University of South Carolina, J.D. (South Carolina Law Review, publications editor)
Clemson University, B.S. (Aquaculture, Fisheries and Wildlife Biology)
BAR & COURT ADMISSIONS
Florida
South Carolina
District of Columbia
U.S. Court of Appeals (Eleventh Circuit)
U.S. District Court (Northern District of Florida, Middle District of Florida, Southern District of Florida, District of Columbia)
U.S. Supreme Court
PROFESSIONAL AFFILIATIONS
Florida Bar Association (Environmental and Land Use Law Section)
William H. Stafford Inn of Courts
Leon County Teen Court Volunteer
PUBLICATIONS & PRESENTATIONS
Miguel Collazo, III and D. Kent Safriet, "When Fire Breaks Out" Recognizing the Inherently Dangerous Activity of Prescribed Burning in Florida," University of Florida Journal of Law and Public Policy, Vol 26, No. 1 (April 2015).
Returning to Pre-Hurricane Status: What Does the United States Supreme Court's Ruling in Stop the Beach Forecast for Litigants Seeking to Protect Private Property Rights?, 61 Syracuse L. Rev. 261, 2011 (co-author)
akings and Ecosystem Restoration: How do Judges Judge an Ecosystem Restoration's Public Uses?, A.B.A Section of Environmental, Energy & Resources Course Materials (38th Annual Conference on Environmental Law), March 2010 (co-author).
Administrative Law and Agency chapters of the South Carolina Environmental Handbook, 2nd Ed., Government Institutes. (Author)
---
Hopping Green & Sams
At Hopping Green & Sams, our value lies in our knowledge, experience, and integrated approach to solving client issues. Our team of top legal minds continues a tradition founded on a ground-breaking approach to the laws, policies, and regulations that shape growth in Florida.
For more than 40 years, the lawyers at Hopping Green & Sams have been recognized for their expertise navigating the most complex governmental, regulatory, and corporate legal issues. Whether in the courthouse, Florida's Capitol, or across the country, Hopping Green & Sams has the expertise and a dedicated team prepared to assist.
The competence and extraordinary experience of our lawyers are critical to providing the highest level of client service. And our lawyers offer clients decades of experience from County Court to the U.S. Supreme Court and from the local planning agency to the U.S. Environmental Protection Agency.
We also endeavor to recruit the best and most experienced lawyers and law students to our firm. Our firm's many awards demonstrate our extraordinary "bench strength," including our many highly credentialed newer attorneys.
Several publications have recognized Hopping Green & Sams for the service and value we bring to clients:
Eleven of our firm's attorneys were ranked in the 2020 edition of the Florida Super Lawyers publication.
More than half of our firm's shareholders are recognized by peer ratings in the Martindale-Hubbell directory.
Fifteen Hopping Green & Sams attorneys were listed in the 2021 edition of the Best Lawyers in America© and Best Lawyers Ones to Watch publications by Woodward/White Inc., including several who have held this rank for more than ten years. This includes attorneys in the fields of: environmental law, energy law, land use and zoning law, real estate law, tax law, and water law.
Chambers USA 2020 recognized Hopping Green & Sams for outstanding Florida practice groups in the areas of Environmental law (Band 1) and Real Estate: Zoning and Land Use -North & Central Florida (Band 2).  Five HGS attorneys were also selected as notable practitioners within these practice groups.
Our firm is ranked in the U.S. News – Best Lawyers® "Best Law Firms" 2021. The Land Use and Zoning practice is ranked Nationally in Tier 3.  Hopping Green & Sams is ranked Regionally for Tallahassee as "Tier 1" in the following practice areas: Environmental law, Land Use & Zoning law, Litigation-Environmental, Litigation-Land Use & Zoning and Water law. As well as "Tier 2" in Energy law and "Tier 3" in Real Estate law.
Two of our lawyers were selected to the 2020 Florida Legal Elite list, published by Florida Trend.
Collectively, our team can bring to bear the experience, ideas, and tools to help you meet your goals, whether you are looking for inspired litigation strategies, planning a large-scale development project, dealing with a complex tax-exempt bond default, permitting an industrial facility, or managing government relations. When you hire Hopping Green & Sams, you hire leaders in the field.