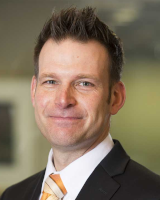 Dustin T. Woehl
Firm: Barton Cerjak
Location: Milwaukee - WI
313 North Plankinton Ave., Suite 207




Milwaukee, WI 53203




USA
Tel : 414-488-1941

Fax : N/A

Email : N/A

Dustin grew up in sunny South Florida and migrated to the Midwest to attend Carleton College in Minnesota. He moved back east for law school at the University of Pennsylvania, where he graduated in 2000. He has been practicing law in Wisconsin ever since and is well known as an outstanding appellate attorney.
Areas of Practice
Appellate Representation
Business / Contract / Commercial
Civil Litigation
Construction Law
Fire / Explosion / Property Loss
Insurance Defense
Municipal Law
Premises Liability
Education
J.D. University of Pennsylvania School of Law, cum laude, 2000
B.A. Carleton College, Northfield, MN, magna cum laude, 1997
Admissions
U.S. District Court – Eastern District of Wisconsin
U.S. District Court – Western District of Wisconsin
Wisconsin
Honors and recognitions
Exclusive Featured Attorney Representing Milwaukee Premier Appellate Lawyers 2023
Included in the 2011-2015 editions of SuperLawyers Rising Star listing
Publications
"Adams v. Northland Equipment Co.: Employees do not have the right to unreasonably block settlements of third party claims under Wis. Stat. sec. 102.29", Wisconsin Defense Counsel Journal, Winter, 2014
"The Spirit of Want",  Book Review, Wisconsin Lawyer,2013
"No Duty Is Dead, Long Live No Duty",  Wisconsin Defense Counsel Journal, 2009
"High Conflict People in Legal Disputes",  Book Review, Wisconsin Lawyer, 2006
"After Hanson",  Wisconsin Defense Counsel Journal ,2006
"Punitive Damages Against a Drunk Driver", coauthored with Jim Ryan. Wisconsin Lawyer, 2005
Seminars
Advanced Discovery and Evidence
Complex Insurance Coverage Issues
Deposition Practice
Insurance Law
Legal Ethics
Premises Liability on Paper
Reported Decisions
Larson v. Burmaster, 2006 WI App. 142 (On respondents brief with Jeff Schmeckpeper)
---
Barton Cerjak
"Uncompromising advocacy" isn't just a tagline for us. Success is measured by results and it is achieved by zealously advocating for every client in every case. Although each dispute presents its own nuances, the overarching objective remains constant: how to achieve the client's goals in an efficient and cost-effective manner? This is why at the outset of every engagement, we partner with our clients to understand how they define a "win," develop a strategy to achieve that win, and offer a range of fee structures to make that vision a reality.
The role of an appellate court is to ensure that a trial court decision was correctly decided. To that end, both state and federal courts have at least one layer of obligatory appellate review. The appellate process also serves to ensure uniformity in the application of law and to provide guidance to lower courts. On appeal, the focus shifts from gathering and proving the facts of the case to the legal questions concerning the propriety of a lower court's decision. Effective appellate practice demands written and oral advocacy at the highest level.
Appellate courts will reverse or modify a trial court's ruling only if they determine that the lower court committed a reversible error. Parties are not guaranteed perfect trials, and few cases make it to a judgment without a few errors being committed along the way. To obtain relief from an appellant court, however, a party must show that not only did an error occur, but that this error sufficiently jeopardized the party's rights, so as to warrant reversal of the decision. When reviewing any lower court decision, an appellate court will apply certain standards of review to determine whether the lower court erred.
Notably, however, entertaining an appeal does not mean that the appellate court will retry the case. Rather, appellate courts review the record established below, including transcripts, pleadings, motions, orders, and the judgment giving rise to the appeal. As a result, appellate courts are deferential to trial court rulings that concern questions of fact or where errors involving discretionary decisions made by the judge below. On questions of law, however, appellate courts review these issues "de novo." Under this standard of review, appellate courts show no deference to the trial judge's interpretation of the law.
It is vitally important to understand the standards of review applicable to the legal questions under review on appeal. Apart from a concrete understanding of these legal standards, effective appellate advocacy requires a mastery of the record and superlative research, analysis, and writing skills. We are acutely aware of what constitutes a successful appellate strategy.