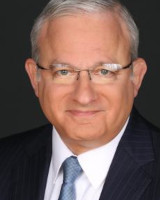 Jonathan J. Klein
Firm: Parlatore Law Group
Location: Stamford -CT
1266 E. Main St, Suite 700R,




Stamford, CT 06902




USA
Tel : 203-330-1900

Fax : N/A

Email : jonathan.klein@parlatorelawgroup.com

Jonathan J. Klein is a Partner with Parlatore Law Group who has 40 years of experience in an unusually broad array of practice areas, including complex commercial, civil, tax and securities litigation; criminal defense; appeals in all state and federal courts; corporate law; tax assessment appeals; administrative law; commercial and residential landlord-tenant law; labor and employment law; probate litigation; election law; military law; and zoning law. He brings his significant breadth of experience and knowledge to each client with whom he works. Whether representing plaintiffs or defendants in court, preparing or negotiating contracts, or advising on corporate legal issues, he has a well-earned reputation as a highly skilled, tenacious litigator and a fierce advocate inside and outside the courtroom.
Mr. Klein takes pride in solving the most perplexing and complex problems facing individuals and businesses and in serving each client in a caring, patient and understanding style. He is committed to providing his clients with the highest quality of service in a time-efficient, cost-effective manner.
Mr. Klein is also a seasoned appellate advocate, having briefed and argued more than 30 appeals in the U.S. Court of Appeals for the 2d Circuit, the Connecticut Supreme Court and Appellate Court, and the U.S. Court of Appeals for the Armed Forces.
In his criminal practice, he has represented clients accused of white collar crimes such as bank fraud, securities fraud, embezzlement, counterfeiting, forgery and tax evasion, violent crimes ranging from murder to home invasion, narcotics, and a full range of military crimes. He also represents corporate and individual targets of, and witnesses in, federal grand jury investigations.
Additionally, Mr. Klein advises clients on a full spectrum of corporate law issues, including commercial leasing and other transactions, forming corporations and limited liability companies, buying and selling businesses, and preparing and negotiating contracts of all kinds. Parlatore Law Group is passionate about helping small businesses, and Mr. Klein is equipped to advise both management and employees in labor and employment law matters, including discrimination and hostile work-place issues.
Prior to joining Parlatore Law Group, Mr. Klein served on active duty in the Trial Defense Service of the U.S. Army Judge Advocate General's Corps, as a Senior Special Counsel in the Department of Enforcement of the New York Stock Exchange, and in private practice for more than 30 years in Bridgeport, Connecticut.  He has also had the distinction of presiding over a number of Superior Court trials as an Attorney Trial Referee, appointed by the Chief Justice of the Connecticut Supreme Court.
Now a resident of Baltimore, Maryland, where he and his wife enjoy spending time with 2 of their 5 children and 14 of their 24 grandchildren, Mr. Klein is proud and excited to expand his practice with Parlatore Law Group to serve clients in that area, while continuing to serve his clients in Connecticut.
Mr. Klein earned a B.A. in Political Science, magna cum laude, from Yeshiva University in 1977, while also receiving his commission as a Distinguished Military Graduate of Army ROTC at Fordham University.  He received his J.D. from Fordham University School of Law in 1980.  He is also a graduate of the U.S. Army Command and General Staff College (Commandant's List).  Mr. Klein created and taught courses in military criminal law and the law of war at the Army ROTC unit at the University of Connecticut where he also served on many occasions as a disenrollment board and an investigating officer.  With 24 years of active and reserve service, he is a retired Lieutenant Colonel, U.S. Army Reserve.
Author: "The Taxability of Heart and Hypertension Benefits and Related Municipal Disability Pensions," Compensation Quarterly, Spring 2010
Professional and Civic Associations:
Connecticut Bar Association (Veterans' and Military Affairs Section, Executive Committee)
Drafted and secured adoption of Connecticut Practice Book § 2-13A, Military Spouse Temporary Licensing
Greater Bridgeport Bar Association
Bridgeport Board of Fire Commissioners (2004-14; President, 2013-14)
---
Parlatore Law Group
Our attorneys are all carefully selected experts in various practice areas, who have demonstrated track records of success and several years experience in the legal industry. Founded by a military veteran, both the culture and ethos of the firm draw heavily upon that experience resulting in a mission oriented, client focused approach. All attorneys and employees at Parlatore Law Group share in this mindset and the firm draws from a talent pool that is as skilled as it is diverse. The result is an energetic, mission-oriented team who is eager to work together to achieve the best results for their clients.
One of the largest financial burdens that traditional law firms carry is the rent and maintenance of large, opulent offices. However, intelligent and innovative use of cloud-based technology makes the need for large physical offices obsolete.
By trimming all the excess expenses and passing those savings on to its clients, Parlatore Law Group's attorneys can instead devote their full efforts to solving their clients' problems and working together as a cohesive team without the necessity of being collocated in a physical office. Our cloud computing capabilities create great opportunity to effectively communicate across geographies for both attorneys and clients.