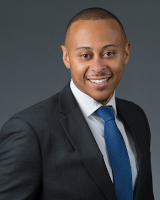 Aaron V. Burrell
Firm: Dickinson Wright
Location: Detroit - MI
500 Woodward Avenue Suite 4000




Detroit, MI 48226-3425




USA
Tel : 313-223-3500

Fax : 844-670-6009

Email : ABurrell@dickinsonwright.com

Aaron Burrell is a business lawyer who focuses his practice in the areas of appellate law, complex commercial litigation, labor and employment law, and minority business enterprises.
As a member of the firm's litigation practice, he has prevailed in numerous complex, commercial-litigation cases in a number of state and federal trial courts and courts of appeals. As a member of the firm's labor and employment practice, he has successfully defended clients in a wide range of discrimination and unfair-labor-practice claims in state and federal courts and administrative agencies, and he has counseled clients on all aspects of the employment relationship, including hiring; discipline; diversity, equity, and inclusion matters; and the creation and enforcement of employment agreements. Aaron has further advised entertainment and minority business enterprise clients on a wide array of corporate matters.
At Dickinson Wright, Aaron serves as co-chair of the firm's Diversity & Inclusion Committee and co-chair of Litigation Training.  Aaron also serves as a lateral recruiter for the firm.
Aaron has demonstrated leadership in the legal profession throughout his career. He is a Commissioner on the American Bar Association's Commission on Racial and Ethnic Diversity in the Profession. He has served as a member of the Board of Commissioners of the State Bar of Michigan; chair of the State Bar of Michigan's Representative Assembly; co-chair of the State Bar of Michigan's Equal Access Initiative; president of the D. Augustus Straker Bar Association; vice president of the D. Augustus Straker Bar Foundation; and affiliate representative of the National Bar Association. He is a member of the Board of Directors of Western Michigan University Cooley Law School and the Oakland County Bar Association. He is a fellow of the Oakland County Bar Foundation, Michigan State Bar Foundation, and the American Bar Foundation.  Aaron is an active member of the Wolverine Bar Association, the Detroit Bar Association, and the American Bar Association.
Aaron has been named an "Up and Coming Lawyer" by Michigan Lawyers Weekly; a "40 Under 40 Honoree" by Crain's Detroit Business and National Black Lawyers; a "Top Lawyer" in Labor and Employment Law by DBusiness Magazine; a "Black Leader Worth Watching™" by Profiles in Diversity Journal; a "Top 100 Under 50 Emerging and Executive Leader" by Diversity MBA Magazine; a Michigan Top 100 Bet-the Company-Litigator®; and a "Rising Star" by Michigan Super Lawyers. He is the author of the Commercial Torts chapter of Torts: Michigan Law and Practice (ICLE 2017), a co-author of the Business Torts and Related Actions chapter of Michigan Causes of Action Formbook (ICLE 2020), and a contributor to Employment Discrimination Law (BNA, 2017).
Acknowledgements
National Action Network of Michigan

Freedom Award Recipient, June 2022

Michigan Chronicle
National Bar Association 

"40 Under 40" Honoree, 2021

DBusiness Magazine

Top Lawyer, Labor & Employment Law, 2020-2023

Diversity MBA Magazine

Top 100 Under 50 Emerging and Executive Leaders, 2020

Crain's Detroit Business

40 Under 40 Honoree, 2019

Detroit Metropolitan Bar Association

Barristers President's Award

Michigan Lawyers Weekly
Michigan Super Lawyers®

 Business Litigation, 2022
"Rising Star," Business Litigation, 2015, 2017-2020

Thomas M. Cooley Leadership Achievement Award Winner, 2009
Straker Bar Foundation Scholarship Award Winner, 2008
Publications/Presentations
Presenter, "New Lawyer Boot Camp," Detroit Bar Association, July 2023
Speaker, "Motions for Summary Disposition," Great Lakes Legal Conference, State Bar of Michigan, June 2023
Speaker, "Toolbox for Running Effective Meetings," Great Lakes Legal Conference, State Bar of Michigan, June 2023
Panelist, "Taking DEI in the Legal Profession to New Heights," Michigan Lawyers Weekly Webinar, April 2023
Speaker, "Employment Law School for Legal Aid Leaders," Committee on Regional Training (CORT) and MIE, Supervising Legal Work Training, November/December 2022
Author, "Growing Union Interest in the Cannabis Growing Business—What Employers Can Do Under the NLRA." Dickinson Wright All Things HR Blog, September 2022
Author, "Don't Delay, Arbitrate Today—Supreme Court Removes Requirement to Demonstrate Prejudice in Asserting Waiver of Right to Arbitration," Dickinson Wright All Things HR Blog, June 2022
Presenter, "HR's Role in Government Diversity and Inclusion Strategy," Lorman, May 2022
Keynote Speaker, The Recent, Relevant, and Recurring Reality of Remote Working 7 Key Rules for Implementing Remote-Work Polices, Michigan Self Insurance Association, April 6, 2022
Panelist, "The 2%: A Panel of Black Partners," Wayne State University Law School, February 2022
Co-Author, "U.S. Supreme Court Splits the Baby as It Stays the Private Employer Vaccine or Test Mandate but Keeps the Healthcare Vaccine Mandate in Place," Dickinson Wright Industry Alert, January 2022
Representative Clients
Microsoft Corporation
J.P. Morgan Chase
Bank of America
Horizon Global
Oakland County
Enbridge Energy, Limited Partnership
Grupo Antolin Primera
Detroit Thermal Systems, LLC
EventLink
Sears Hometown and Outlet Stores
---
Dickinson Wright
At Dickinson Wright, we define success by our clients' metrics. Across our 40 practice areas, our team of over 475 lawyers has an unwavering focus on providing unmatched client service and the highest quality legal advice. We are proactive and accessible, providing practical solutions and actionable advice. We are always mindful that we must earn our reputation each and every day by delivering results that speak for themselves.
Dickinson Wright's Appeals & Advocacy attorneys excel in representing clients in appellate courts across the nation, and also in working with trial counsel in developing and preserving issues in anticipation of appeal. We handle appeals and writ proceedings in a variety of venues and jurisdictions, including state supreme and intermediate appellate courts, federal courts of appeals, the U.S. Supreme Court, Canadian appellate courts, and the U.S. Patent Trademark Office's Trademark Trial and Appeal Board. In each instance, we bring together finely honed skills in written and oral advocacy with deep experience in our clients' industries and areas of interest and the substantive law that governs them. Our goal is always to advance our client's interests by achieving the optimal result in the immediate case while helping the client shape the longer-term development of the law.