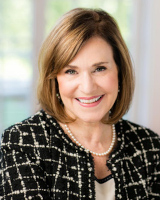 Virginia Hinrichs McMichael
Firm: Appellate Law Group LLC
Location: Radnor - PA
150 North Radnor Chester Rd




Suite F-200 Radnor, PA 19087




USA
Tel : (610) 977-2096

Fax : N/A

Email : vmcmichael@AppellateLawPA.com

Virginia Hinrichs McMichael has over 37 years of experience in commercial litigation and appellate law. She is a former partner and Chair of the Appellate Practice Group at Dilworth Paxson, LLC, a premier litigation firm. McMichael is a former attorney-advisor at the Department of Housing and Urban Development (HUD).  Before working at HUD, she was an associate in the family law firm Lynne Z. Gold-Bikin and Associates.  McMichael is fluent in Spanish and French.
McMichael has successfully represented clients in complex national and international cases in state and federal courts in a wide range of substantive areas of law — including bankruptcy, civil rights, commercial, constitutional, criminal, employment, family, international, labor, medical malpractice, municipal, products liability, real estate, RICO, securities, tax, and trusts and estates.
McMichael has a J.D. from The University of Texas School of Law, where she was a Senior Editor of the Texas International Law Journal, and an A.B. with High Honors in English from Middlebury College. She has an AV Pre-eminent peer-review rating from Martindale-Hubbell, a "Superb" rating from Avvo, and is a Super Lawyer in the area of appellate practice.
McMichael is admitted to practice in the state courts in Pennsylvania. She is also admitted in the United States Supreme Court, the Third and Second Circuit Courts of Appeals, and the United States District Courts for the Eastern and Middle Districts of Pennsylvania. She is a member of the ABA Council of Appellate Lawyers, a subsidiary of the Judicial Division of the ABA; the Pennsylvania Bar Association Civil Litigation, Family Law, and Solo and Small Firm Sections; the Pennsylvania Bar Association's Appellate Advocacy Committee and Women in the Profession Committee; and the Philadelphia Bar Association Appellate Law and International Law Committees.
McMichael is a board member of the Council of Appellate Lawyers, part of the Judicial Division of the American Bar Association.  She is also a member of the Pennsylvania Bar Association's Appellate Practice Committee and a Founding Board Member of Women Owned Law, a national organization dedicated to connecting and advancing women entrepreneurs in the law.  McMichael served for fifteen years on the Board of Supervisors of East Whiteland Township, Pennsylvania, a township with over 10,000 residents that is the home of the Great Valley Corporate Center, one of the largest suburban office complexes in the country.
---
Appellate Law Group LLC
Appellate Law Group is capable of handling all aspects of an appeal, including advising lawyers during trial, identifying appealable issues, drafting notices of petitions for permission to appeal, motions to quash, appellate briefs, amicus curiae briefs, petitions for certiorari, and oral argument. ALG attorneys will also work with lawyers before and during trial to assist with preparing and preserving the record for appellate review.
A high-quality brief improves the chances of success on appeal. An Appellate Law Group brief stands out — it's thoroughly researched but also concise, readable, easily understood, and persuasive.