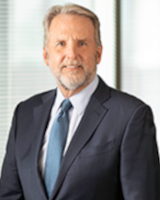 Charles W. Wirken
Firm: Gust Rosenfeld PLC
Location: Wyomissing - PA
579 West Wickenburg Way, Suite 4




Wickenburg, AZ 85390-4300




USA
Tel : 602-257-7959

Fax : N/A

Email : cwirken@gustlaw.com

Charles (Chas) Wirken's extensive appellate experience coupled with his expertise has earned the respect of his peers and appellate judges, as indicated by his election as a Fellow in the American Academy of Appellate Lawyers, inclusion in Best Lawyers in America® in the Appellate Law category, and listings in the Appellate practice category of Southwest Super Lawyers®. Chas was named one of the Top 100 Lawyers in Arizona in 2015, 2018, and 2021, and a Best Lawyers® Lawyer of the Year in 2016, 2018, and 2021.
Having briefed and argued nearly 200 appeals involving a broad range of cases and issues in both state and federal appellate courts, Chas has become a valuable resource to trial lawyers inside and outside of Gust Rosenfeld. He has served as a judge pro tem of the Arizona Court of Appeals and co-founded the State Bar Appellate Practice Section. He regularly shares his knowledge with other lawyers as a faculty member of the State Bar's Appellate Practice Institute.
In 2009, Chas successfully petitioned the United States Supreme Court to hear the case of United Student Aid Funds, Inc. vs. Espinosa. He was the primary draftsman of the briefs leading to a favorable decision that settled the procedural requirements for the discharge of student loan debt in bankruptcy cases. In 2017, he briefed and argued the case of Howell v. Howell at the high court.
The other focus of Chas's practice is the resolution of business disputes. He has tried a wide variety of commercial disputes to judges and juries in state and federal courts. His national reputation for the litigation of cases involving franchises, dealers, distributors and licensors is reinforced by his listing in The Best Lawyers in America® Franchising Law category. Since 1980, Chas has represented both franchisors and franchisees from various franchise systems, in contract, business tort, intellectual property and government regulation disputes typically encountered by such clients.
Chas brings to his advocacy the perspective of years of experience as a judge pro tem of the Maricopa County Superior court and as a former arbitrator for the American Arbitration Association. As President of the State Bar of Arizona, Chas re-established the Arizona College of Trial Advocacy, where he annually serves as a faculty member.
In 2013, Chas was elected to membership in The American Law Institute, the leading, independent organization in the United States producing scholarly work to clarify, modernize and otherwise improve the law. In recognition of his many contributions to the law and justice in Arizona, Chas was inducted into the Maricopa County Bar Association Hall of Fame in 2015.
Chas is AV® Preeminent™ rated by Martindale-Hubbell®, representing the highest rating in legal ability and ethical standards.
---
Gust Rosenfeld PLC
Nine years after Arizona attained statehood, two prominent Phoenix firms merged to form Kibbey, Bennett, Gust and Smith. Their first office was located at the corner of 1st Avenue and Washington Street.
Formed in 1909, Kibbey & Bennett was an established firm. Judge Joseph H. Kibbey was the legal architect of the Salt River Valley irrigation project, a national model for water reclamation. For many years, Walter Bennett was chairman of the Territorial and State Board of Bar Examiners.
Gust & Smith were dynamic lawyers, with John L. Gust serving as Arizona's first bond lawyer and an expert in water and banking law. Frank O. Smith was a former judge and famed trial lawyer, who was also well known for his generosity with charities and his work in developing Phoenix.
Fred W. Rosenfeld joined the firm in 1924 and led the development of its highly regarded municipal bond practice area, a reputation that continues today. In 1964, his son, Fred H. Rosenfeld, joined the firm and currently practices in the areas of municipal bonds and government law. Fred H. co-founded and is a charter member of the American College of Bond Counsel.
Like Fred H. Rosenfeld, Devens Gust joined his father's firm and represented bankers, ranchers and individuals for 40 years. The third generation of the Gust family, Morgan Gust, practiced banking and commercial law at Gust Rosenfeld until 1988.
In 1992, the firm shortened its name to Gust Rosenfeld. Today, we continue to thrive and maintain the tradition of providing high quality, personal service to all of our clients. With more than 60 attorneys, the firm offers counsel to clients ranging from individuals to Fortune 100 companies in virtually all areas of law, from alternative dispute resolution to trusts and estates