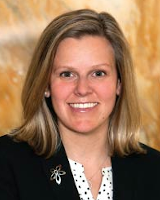 Courtney Leathers Allen
Firm: Epstein Patierno, LLP.
Location: Greenwood Village - CO
6161 S. Syracuse Way Suite 370




Greenwood Village, CO 80111




USA
Tel : (303) 893-3111

Fax : (720) 420-4459

Email : allen@epfamilylawattorneys.com

Courtney Leathers Allen is a shareholder and founding member of Family Law Practice, Epstein Patierno, LLP, practicing exclusively in all aspects of family law. Courtney has been named a Rising Star by Super Lawyers from 2009-2017, for her professional achievement and high-degree of peer recognition.
With over a fifteen years' experience in family law, Courtney brings diligence, compassion and respect to address complex financial issues, support, parenting time and decision making issues, appeals and international custody disputes.  Her appellate work at the Colorado Court of Appeals, Colorado Supreme Court, and the Tenth Circuit Court of Appeals has spanned all aspects of family law and international custody, and resulted in published and unpublished opinions for her clients.
Courtney believes that she can best serve her clients, especially those who are parents, by attempting settlement and collaborative negotiation first. When that is not possible, Courtney tirelessly advocates for her clients at trial. In addition to cases involving parties in Colorado, Courtney has represented families from five continents in matters related to international child abduction, international child custody and parenting time, habitual residence, and aspects of The Hague Convention on the Civil Aspects of International Child Abduction.
After growing up in Rochester, New York, Courtney moved to Colorado, where she graduated from the University of Colorado at Boulder with degrees in Psychology and Art History in 2000. She earned her Juris Doctorate from the Michigan State University in 2005. There, she also achieved the American Jurisprudence Awards in Matrimonial Practice and Decedents Estates and Trusts, both in 2003.  Courtney is licensed in the Colorado State Courts, the U.S. District Court for the District of Colorado, and the Tenth Circuit Court of Appeals.
Courtney began her career at Litvak Litvak Mehrtens and Carlton, P.C. (then Litvak Litvak Mehrtens and Epstein, P.C.) in 2006.  After a decade, in 2016, Courtney became one of four original founders of Epstein Patierno, LLP and has been exclusively practicing family law since then.
Courtney is currently a Co-Editor of the Family Law Section of The Colorado Lawyer.  She is a Past President of Metro Denver Interdisciplinary Committee and served on the executive board of that organization from 2012-2017. She is a member of the American Bar Association, and Colorado Bar Association.
She has been an author/co-author/presenter for the Family Law Section of the Colorado Bar Association, the Colorado Judicial Conference Domestic Relations Institute, the Rocky Mountain Paralegal Association, Arapahoe Bar Association, Boulder Bar Association, El Paso Bar Association, Colorado Free University, Young Lawyers Family Law Section, and other bar-related functions.
In her spare time, Courtney enjoys spending time with her son, practicing yoga, hiking, skiing, traveling, and cheering on her beloved Colorado Buffaloes.
---
Epstein Patierno, LLP.
Family Law Practice Epstein Patierno, LLP is an established and highly respected family law firm that is committed to working with our clients to achieve the best possible outcome. Through a wide range of experience and knowledge, we are able to meet our clients' unique needs and provide the highest level of representation. Our attorneys bring extensive experience in family law, litigation, appellate practice, and alternate dispute resolution, as well as a judicial perspective. This wide range of experience allows the firm to provide progressive solutions and effective legal representation for those navigating though divorce and other family transitions.
Colorado has one of the best state judicial court systems in the nation. However, at times, parties can be dissatisfied or disagree with the results of a case that can have a lasting impact on families. Our attorneys have extensive experience in appellate work and understand the complexity and process of appeals. Our firm is able to provide a clear picture of the findings and relevant law, and, with our clients, can explore the possibility of pursuing an appeal.