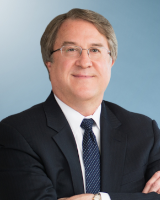 David F. Abernethy
Firm: Faegre Drinker Biddle & Reath LLP
Location: Philadelphia - PA
One Logan Square, Suite 2000




Philadelphia, Pennsylvania 19103




USA
Tel : +1 215 988 2503

Fax : N/A

Email : david.abernethy@faegredrinker.com

David Abernethy has spent more than three decades as a trial and appellate lawyer, prevailing in court for some of the nation's largest pharmaceutical and medical device companies, insurance carriers and other Fortune 100 companies. He has defended hundreds of product liability claims, complex insurance coverage actions, contract and commercial disputes, and consumer class actions, at trial, on appeal and in complex arbitrations. David employs his decades of experience throughout the country to develop litigation strategies that work for clients — whether the ultimate decision is to try the case to a jury, a judge or arbitrators, or pursue a settlement that makes business sense.
Before entering the private practice of law in 1986, David served as a judge advocate officer in the United States Army, prosecuting dozens of challenging criminal cases, including drug offenses and child sexual assault cases.
Representative Experience
First and second chair responsibility in jury trials involving various drugs and medical devices, including a widely used over-the-counter medication, surgical staplers and other instruments, a polypropylene suture used in a wide variety of procedures, and several frequently prescribed medications. Among David's recent cases was an 11-day trial in which the jury returned a defense verdict after finding that the client's medication did not cause a rare immune-mediated reaction that seriously injured a young child.
Extensive experience taking and defending fact and expert depositions, recruiting and developing experts, and briefing and arguing motions at trial and on appeal. In a recent case David successfully argued a summary judgment motion that disposed of all claims in a wrongful death case in which the plaintiff alleged that her adult son was severely injured by a medication and eventually committed suicide because of those injuries. In another recent case, David won dismissal on forum non conveniens grounds of an action brought by a U.S. citizen living in Europe who claimed he was seriously injured, during surgery performed there, by a defect in the client's surgical instrument.
As part of his work on mass torts involving products claims, David has prepared and presented at trial, deposed or defended at deposition, and handled motions and hearings relating to the admissibility of testimony from, experts in a number of areas including endocrinology, psychiatry, toxicology, and government regulation of chemicals and pharmaceutical products.
A number of years serving as national coordinating counsel for a chemical and consumer products manufacturer, handling the defense of personal injury actions in multiple states alleging cancer caused by exposure to trace amounts of a petroleum derivative found in several industrial and consumer products. David obtained favorable settlements or dismissals in a number of those cases.
Serving for several years as appellate counsel for a major manufacturer of asbestos-containing products, briefing and arguing multiple appeals in Pennsylvania, and consulting on appeals in other jurisdictions.
---
Faegre Drinker Biddle & Reath LLP
Faegre Drinker is a top 50 firm designed for clients. We opened our doors on February 1, 2020, uniting Faegre Baker Daniels and Drinker Biddle & Reath, two firms known for exceptional legal and consulting capabilities and a commitment to service excellence. Clients are at the start — and the heart — of everything we do.
With more than 1,300 experienced attorneys, consultants and professionals in 22 locations across the United States, United Kingdom and China, we have the strength to solve your most complex transactional, litigation and regulatory challenges wherever you need us. We partner with clients ranging from emerging startups to multinational corporations, delivering comprehensive and customized advice that advances your most ambitious business objectives.
Our culture is firmly rooted in relentless client focus and mutual trust that empowers collaboration. We listen to understand your priorities and pressure points. We bring you fresh ideas that work. And we deliver excellence — without arrogance. We are committed to our communities and to building a diverse and inclusive firm that reflects those communities and our clients.