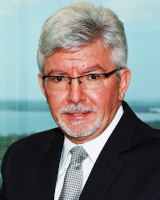 David M. Caldevilla
Firm: de la Parte & Gilbert
Location: Tampa - FL
Bank of America Plaza Suite 2000




101 E. Kennedy Blvd




Tampa, FL 33602
Tel : 813-229-2775

Fax : N/A

Email : dcaldevilla@dgfirm.com

David M. Caldevilla adds significant appellate experience to the firm, having served as lead appellate counsel in a wide range of cases. Prior to joining the firm, he served as Staff Attorney to Judge Jack R. Schoonover at the Florida Second District Court of Appeal. He also served as General Counsel to the Municipal Gas Authority of Florida, and has served as special counsel to Sumter County in eminent domain matters, and as hearing officer in utility franchise cases in Hillsborough County. Since 1997, he has been a Board Certified Appellate Lawyer, and "AV" rated by the Martindale-Hubbell Law Directory.
Dave is listed in "Best Lawyers" in Appellate Practice in 2013 – 2021, in Florida Trend's "Legal Elite" in 2008 and 2010-2021 and in Tampa Bay Magazine's "Top 50" Tampa Bay Area lawyers in 2013. He is also listed as a Florida Super Lawyer in Appellate Practice in 2008 through 2020, as well as a Top 100 Florida Super Lawyer in 2018 and 2019, Top 50 Tampa Bay Super Lawyer in 2016, and Tampa Magazine's "Top Lawyers List" in 2021.
Bar admissions:
The Florida Bar – 1987
U.S. District Court, Middle District of Florida – 1988
U.S. Court of Appeals, Eleventh Circuit – 1989
U.S. Supreme Court – 1998
Representative community and bar involvement:
Dave has served our community through participation in several volunteer programs. He currently serves on the Board of Directors for the Centro Asturiano de Tampa, and the Hillsborough High School Alumni Association. He is a past member and Co-Chair of Bay Area Legal Services' Phonathon Committee. He has served on the Board of Directors of For The Children, Inc., a non-profit corporation that strives to support "special needs" foster children. He is a former Board member of Bright Horizons of Tampa Bay, Inc., a non-profit pre-school for at-risk children. Through his involvement in Tampa Connection, Dave assisted the Hillsborough County Guardian ad Litem Program in developing a strategic plan to improve volunteer recruitment and retention. Dave has participated in the Bay Area Volunteer Lawyers Program sponsored by Bay Area Legal Services and the Hillsborough County Bar Association, and has also been involved in fundraising activities for the Cystic Fibrosis Foundation, Bay Area Legal Services, the American Heart Association and the United Way.
Starting in 2015, Dave has served two consecutive 3-year terms on the Appellate Practice Board Certification Committee, which is the standing committee of the Florida Bar responsible for the evaluation of competency, experience, and professionalism of attorneys seeking board certification in the area of appellate practice. In 2016, he was appointed to serve as the Vice Chair, and in 2017, he was appointed to serve as Chair of that Committee. Before that, Dave was a member of the Florida Bar's Appellate Court Rules Committee from 2008 through 2014. He served as the Committee's Secretary from 2013 through 2014.
In 2004, Dave was appointed by Governor Jeb Bush to serve a 4-year term on the Judicial Nominating Commission for the Florida Second District Court of Appeal. Then, in 2008, Governor Charlie Crist appointed Dave to serve a second 4-year term. Dave served as Vice Chairman from July 2007 to August 2008, and thereafter served as Chairman through July 2009. He continued to serve as a member of the Commission until October 2012.
In May 2008, Dave received the "Chair Service Award" for outstanding service to the City, County and Local Government Law Section of The Florida Bar.
Publications:
"Attorney's Fees and Costs in Administrative Proceedings," The Florida Bar, Administrative Law Section Newsletter, Vol. XI, No. 1 (October 1993)
"Environmental Permits Can Support Showing of Reasonable Necessity for Order of Taking," The Hillsborough County Bar Association Lawyer, Vol. 4, No. 5 (Feb. 1994)
"Perfecting Appeals of Final Orders Issued by State Agencies," The Hillsborough County Bar Association Lawyer, Vol. 4, No. 8 (May 1994)
Dave co-authored Chapter 10 on "Post Trial Motions" and Chapter 14 on "Appeals Under the Florida Administrative Procedure Act" of the Lawyers Cooperative Practice Guide Florida Trial & Appeal, American Inns of Court Civil Procedures Series (1997).
"Substantial Changes to Construction Plans May Nullify Condemnor's Offer of Judgment," The Hillsborough County Bar Association Lawyer, Vol. 12, No. 2 (October 2001)
Contributor, The Pro Se [Self-Represented] Appellate Handbook (Fla. Bar Appellate Practice Section)
---
de la Parte & Gilbert
At de la Parte & Gilbert, our litigators have significant experience at both the trial court and appellate court levels. This is important because as your case moves forward in the trial court, your chance of winning or losing a future appeal is already taking shape.
Regardless of whether you win or lose at the end of the trial process, and regardless of how long that takes, there may be an appeal in your future. If you win your case at trial, your opponent may decide to appeal. Or, if you have lost your case at trial, you may want to appeal to a higher court. As another example, your trial judge may decide an issue during a pre-trial phase of your case that should be immediately appealed before the case goes to trial. In these situations, you should make sure that your case has been properly postured in the trial court for a possible appeal by you or your opponent. Therefore, in a high-stakes lawsuit, it is usually a good idea to include a seasoned appellate lawyer on your trial team.
Our appellate practice division is led by David Caldevilla, a Board Certified appellate lawyer with over 30 years of experience handling highly complex cases at both the trial and appellate levels. We have handled many diverse types of lawsuits, including disputes involving commercial, business, malpractice, personal injury, environmental, real property, eminent domain, professional licensure, consumer, and fraud matters, to name a few examples. Moreover, we have litigated in administrative tribunals, arbitration forums, state courts and federal courts, and served as counsel in many precedent setting appellate decisions.
Our appellate lawyers often work with trial lawyers to make sure that the proper steps are taken in order to seek justice in the appellate courts. We are also often hired by other law firms to work as co-counsel to prepare important motions, to participate in hearings and trials, and to argue dispositive issues in the trial court, so that the client's position is preserved for any future appeal.
Besides working with trial lawyers, our appellate lawyers are often hired to handle an appeal after the trial lawyer's work is done. So, whether you have an important case that is being litigated at the trial level, or whether you need to appeal or whether your opponent has filed an appeal, the appellate lawyers at de la Parte & Gilbert are ready to help you.