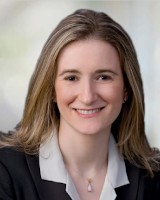 Dori Kornfeld Goldman
Firm: YetterColeman LLP.
Location: Houston - TX
811 Main Street Suite 4100




Houston, Texas 77002




USA
Tel : 713.632.8027

Fax : 713.632.8002

Email : dgoldman@yettercoleman.com

Active in high-stakes litigation, Dori focuses her practice on crafting the trial and appellate strategy for cases in state and federal court. From the initial case evaluation through appeal, she takes the lead in developing the legal arguments, drafting pivotal trial pleadings and appellate briefs, handling error preservation, and presenting oral arguments. Known for her adept approach to jury charges and strategic case assessments, Dori has helped clients across industries achieve successful results in complex trials and appeals involving business contracts and torts, antitrust, bankruptcy, personal injury, and other commercial disputes. She has been engaged by leading trial attorneys across the state to assist during trials and all stages of appeals.
Dori graduated from Harvard Law School, cum laude, and clerked for the Honorable Lee H. Rosenthal of the U.S. District Court for the Southern District of Texas. She received her undergraduate degree, magna cum laude, from Princeton University, where she was elected to Phi Beta Kappa and served as Executive Editor of The Daily Princetonian. Before attending law school, Dori was a policy analyst for the Electronic Privacy Information Center.
Dori holds numerous professional and civic leadership roles. She serves as co-chair of the membership committees for the State Bar of Texas Appellate Section and the Women and The Law Section, and as a board member of the Anti-Defamation League Southwest Region and the Jewish Federation of Greater Houston. Dori's service to the profession and the community has led to honors, including the Joseph D. Jamail Award for Justice by AVDA, Women of Influence Award from the National Council of Jewish Women Greater Houston, the Kristi Couvillon Pro Bono Award from the Texas Civil Rights Project, and the Falik Young Leadership Award from the Jewish Federation of Greater Houston.
Professional Honors & Affiliations
2020 Joseph D. Jamail Award For Justice, Aid to Victims of Domestic Abuse
2017 Women of Influence Award, National Council of Jewish Women – Greater Houston Section
Best Lawyers in America® in Appellate Law, 2021
"Texas Super Lawyer" in Appellate Law, Thomson Reuters, 2016-2020
"Texas Rising Star," by Thomson Reuters' Super Lawyers in Texas Monthly Magazine, 2007-2009, 2011-2016
"Houston Top Lawyer" in Appellate, H Texas Magazine, 2009-2011, 2013, 2015, 2017-2020
2011 Kristi Couvillon Pro Bono Award, Texas Civil Rights Project
2011 Barbara and Harold Falik Young Leadership Award
Board Member: Anti-Defamation League, Southwest Region, 2021
Board Member: Jewish Federation of Greater Houston, 2014-present
Co-Chair: Membership Committee, State Bar of Texas Women and the Law Section, 2020-2021
Co-Chair: Membership Committee, State Bar of Texas Appellate Section, 2020-2021
Former Chair: Houston Bar Association Federal Practice Section, 2017-2018; Chair-Elect, 2016-2017; Treasurer, 2015-2016
Former Co-Chair: Diversity Committee, State Bar of Texas Appellate Section, 2013-2016
Education & Professional Background
Harvard Law School J.D., cum laude, 2003
Princeton University A.B., Woodrow Wilson School of Public and International Affairs, magna cum laude and Phi Beta Kappa, 1999
Law Clerk to The Hon. Lee H. Rosenthal U.S. District Court, Southern District of Texas 2003-04
Admitted to Practice: Texas, 2003, the U.S. Supreme Court, U.S. Court of Appeals for the Fifth Circuit, and numerous other federal and state courts
---
YetterColeman LLP.
At Yetter Coleman, we only do one thing: handle trials and appeals of complex business and technology cases to achieve outstanding results.
Our success starts with top-notch attorneys from the best law schools around the country—institutions like Harvard, Columbia, Virginia, Texas, and Duke. We believe that winning high-stakes commercial cases must be based on a foundation of aggressive, creative legal reasoning and strategy.
We also bring to bear the right in-court seasoning. Our senior lawyers have handled countless trials and arbitrations over their combined century and a half of practice. Teamed with our talented group of hard-working younger attorneys, we take our clients' cases from initial investigation, through discovery and trial, and into successful appeals — even to the United States Supreme Court — or negotiated resolutions. In short, we manage our clients' disputes from start to finish.
Our lawyers have handled virtually all manner of business and technology litigation in their careers. Some of our successes were record-breaking verdicts or settlements at the time, while in other cases our lawyers literally rescued Fortune 500 firms from near bankruptcy.