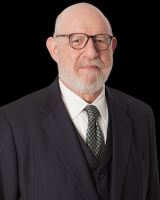 Elliot H. Scherker
Firm: Greenberg Traurig, LLP.
Location: Miami - FL
333 SE 2nd Avenue Suite 4400




Miami, FL 33131




USA
Tel : 305.579.0579

Fax : 305.579.0500

Email : scherkere@gtlaw.com

Elliot Scherker has 40-plus years of experience as an appellate lawyer and has handled more than 2,000 appeals in state and federal courts. Elliot brings a practical and client-centered approach to his work. He is Co-Chair of the firm's National Appellate Practice.
Represented Lorillard Tobacco Company on appeal from $145 billion judgment against the five major American tobacco companies, the largest damage award in American legal history; presented oral argument in both the Third District Court of Appeal and the Florida Supreme Court on behalf of all five companies, resulting in damages judgment being reversed.
Overturned $521 million judgment against BDO Seidman.
Prevailed on appeal to Fifth Circuit from conviction in major criminal securities fraud prosecution in Texas.
Obtained reversal of $60 million punitive-damages judgments against former Arizona utilities commissioner in Ninth Circuit.
Obtained forum non conveniens dismissal for Hilton International in major premises liability action, on appeal from order refusing to dismiss action.
Represented Florida Marlins in upholding judgment approving public-private contract for development of new baseball stadium.
Prevailed before an en banc Florida appellate court for hotel client on question whether landowners or hotels are liable for accidents and drownings resulting from natural and ordinary risks occurring in bodies of water.
Overturned $8 million judgment against Brinks, Inc. in action by driver charged with theft, on post-trial in federal district court; upheld judgment on appeal in Eleventh Circuit
Listed, The Best Lawyers in America, Appellate Practice; Criminal Defense: White-Collar; Personal Injury Litigation – Defendants, 2001-2021
Listed, Acritas Stars™ Independently Rated Lawyers, "Star Lawyers," 2018-2020
Listed, Chambers USA Guide, "Litigation: Appellate," 2003-2020
Listed, The Legal 500 United States, Litigation – Supreme Court and Appellate, 2008, 2014-2020
Recognized, Daily Business Review, "Most Effective Lawyers – Appellate," 2010 and 2017
Listed, South Florida Legal Guide, "Top Lawyer," 2004-2017, 2020
Team Member, U.S. News – Best Lawyers®, Best Law Firms Edition, "Law Firm of the Year," Environmental Law, 2016
Team Member, a Law360 "Product Liability Practice Group of the Year," 2011
Team Member, "Champions of Equality Award" (based on role in landmark Florida gay adoption case), SAVE DADE Foundation, May 2011
Team Member, a Law360 "Appellate Practice Group of the Year," 2010
Rated, AV Preeminent® 5.0 out of 5.0
---
Greenberg Traurig, LLP.
Greenberg Traurig's Appellate Group has been involved in some of the most important and consequential cases of our time. In recent years, GT's Appellate leaders have played key roles in cases addressing voting rights and election law, federal constitutional law, environmental law, labor law, white collar criminal law, First Amendment law, real estate law, civil rights law, intellectual property and patent law, and administrative and regulatory law.
GT's Appellate team enjoys an unparalleled platform with almost 70 lawyers devoting all or much of their practices to appellate matters in Atlanta, Austin, Boston, Washington D.C., New York, Chicago, Denver, Houston, Las Vegas, Los Angeles, Miami, Tampa, Philadelphia, Phoenix, and beyond – in total, 30 key centers of business and government throughout the United States. Team members have in recent years successfully litigated before the U.S. Supreme Court, the highest courts in many states, all 13 federal circuit courts, including the Federal Circuit, and many states' lower appellate courts.
The GT Appellate Practice Group's philosophy is to combine forum-knowledgeable lawyers who have a comprehensive understanding of their jurisdictions with colleagues who have a proven record of substantive excellence in the legal issues involved in our clients' appellate cases.