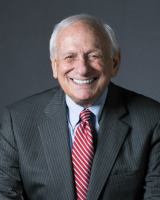 Gary P. Naftalis
Firm: Kramer Levin Naftalis & Frankel LLP
Location: New York - NY
1177 Avenue of the Americas




New York, NY 10036




USA
Tel : 212-715-9253

Fax : N/A

Email : gnaftalis@kramerlevin.com

Gary P. Naftalis is one of the nation's leading trial lawyers and pre-eminent litigators. Gary represents corporations, as well as officers, directors and significant individuals, in all phases of complex high-stakes civil, criminal and regulatory matters. His work on behalf of these clients spans more than four decades and includes many sensitive and high-profile matters, including governmental and regulatory inquiries and related civil litigation involving allegations of insider trading, market manipulation, accounting irregularities, stock options backdating and other financial fraud. Throughout his career he has been one of the first calls for corporate leaders encountering legal problems.
Gary has also argued significant appeals in appellate courts throughout the country. In addition, he has served as counsel to audit and special committees of a number of major public companies in connection with regulatory issues.
Gary's most notable work on behalf of clients includes his successful defense of Michael Eisner, the CEO of The Walt Disney Co., in the shareholder derivative lawsuit related to the hiring and termination of Michael Ovitz. After a 37-day trial in the Delaware Court of Chancery, Mr. Eisner and the other Disney directors prevailed on all counts. The National Law Journal chose the Disney decision as one of the top defense wins of that year. Gary also successfully secured dismissal for Kenneth Langone, former chair of the New York Stock Exchange Compensation Committee, of all charges brought against him by then-Attorney General Eliot Spitzer relating to the compensation of NYSE Chairman Richard Grasso.
Other notable matters include the representation of the city of New York in the inquiry by the New York County District Attorney relating to the fire at the Deutsche Bank building at the World Trade Center, in which no charges were brought against the city or any of its agencies or its officials, and the defense of Sirius XM Radio in a breach of contract action by Howard Stern seeking $330 million in damages, in which Gary secured summary judgment in favor of Sirius dismissing the case. The court found that the "clear, unambiguous language" of the contract defeated Stern's claim. More recently, Gary defended Rajat K. Gupta, the former managing director worldwide of McKinsey, in both a high-profile criminal insider trading trial and a parallel Securities and Exchange Commission (SEC) enforcement action, where he obtained a precedent-setting decision challenging the attempt by the SEC to utilize an administrative process rather than go to court.
Gary successfully represented pro bono Congregation Jeshuat Israel, the congregation that has worshipped for the past 130 years at Touro Synagogue, the nation's oldest synagogue, in a dispute with a New York City congregation over the ownership of the synagogue and valuable silver bells (rimonim) that adorn Torah scrolls and were made by colonial silversmith Myer Myers. After a two-week trial in federal court, Jeshuat Israel prevailed on all issues. The American Lawyer Daily named Gary Litigator of the Week for his success in this two-week trial. In June 2017, The American Lawyer named the case one of the nation's top pro bono accomplishments of 2016.
Gary has long been regarded as the man to see by securities industry clients in sensitive "bet the company" matters, including federal and state criminal actions, SEC investigations, and civil litigation. He successfully defended Salomon Brothers in the federal criminal and SEC investigations of U.S. Treasury auction bidding practices, and Kidder, Peabody & Co. in connection with the Wall Street insider trading scandal. In both instances, he persuaded the U.S. government not to bring criminal charges. He also represented Kidder, Peabody in multiple related civil litigations in which the company faced more than $2 billion in damage claims. In addition, he represented the CEO of Arthur Andersen in the Enron matter; the chairman of Global Crossing; the COO of MF Global; the CEO of Refco; the CEO of WorldCom; and major figures in inquiries involving Drexel Burnham, Orange County, CA, Cendant, Tyco, Bank of Credit and Commerce International, and British Petroleum.
---
Kramer Levin Naftalis & Frankel LLP
Kramer Levin prides itself in providing our clients proactive, creative and pragmatic solutions that address today's most challenging legal issues. With more than 375 lawyers in 60-plus practice areas, the firm is headquartered in New York with offices in Silicon Valley and Paris, and fosters a strong culture of involvement in public and community service.
The firm is led by our co-managing partners, Paul H. Schoeman and Howard T. Spilko. Paul J. Andre serves as office managing partner of the Silicon Valley office, and Dana M. Anagnostou and Renaud Dubois serve as co-managing partners of the Paris office.
We have long understood that our future as a top law firm depends on developing world-class attorneys with a wide range of perspectives. We therefore regard it as imperative that we maintain an environment where people from diverse backgrounds can flourish, both as lawyers and as individuals.
Accordingly, we cast the widest possible net to attract such people, and we make a serious investment in their long-term development. We do this proactively, operating the entire firm in an inclusive manner that represents the full range of human differences.
At Kramer Levin, no career will be limited in any way by race, color, ethnicity, gender, sexual orientation, gender identity and expression, religion, nationality, age, disability, or marital and parental status.
To ensure this, our attorneys receive mandatory diversity training every year. We are a signatory to the New York City Bar's "Statement of Diversity Principles," which expresses our commitment to facilitating diversity in the hiring, retention and promotion of attorneys. And we support a number of legal organizations aimed at increasing diversity, including AALDEF, AABANY, Asian American Law Fund, KALAGNY, LeGal, Lambda Legal and the New York City Bar.
Our diversity program has been recognized by many of the organizations that monitor such efforts, including Vault and Chambers Associate satisfaction survey. In 2020, Yale Law Women's 15th annual Top Firms for Gender Equity & Family Friendliness Report recognized Kramer Levin as a top firm for promotion practices and advancement for part-time attorneys.