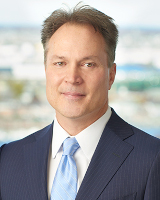 James J. Barriere
Firm: Hinckley, Allen & Snyder LLP
Location: Albany - NY
30 South Pearl Street, Suite 901




Albany, NY 12207




USA
Tel : 518-396-3100

Fax : N/A

Email : jbarriere@hinckleyallen.com

As Co-Chair and a Partner in the Firm's Construction & Public Contracts Group, Jim brings over 20 years of public and private construction experience. He represents design-build contractors, construction managers, general contractors, public and private owners and specialty contractors on a variety of matters. Jim is frequently called on to advise clients on claims, contract rights, public bidding, labor law, insurance, indemnity and complex construction and design disputes. He also counsels clients on techniques and strategies to avoid or resolve disputes, if possible, and pursues claims and defenses when disputes cannot be avoided in court proceedings and arbitrations.
Jim is an experienced trial and appellate lawyer. His experience includes: (i) serving as lead counsel in the prosecution of substantial claims on multiple large public works projects in New York City; (ii) the defense of hundreds of millions in claims on a substantial industrial nuclear storage facility; (iii) serving as lead counsel in the prosecution of design defect and construction claims arising out of a collapsed and deficient sewage treatment facility; (iv) developing and drafting EPC and general construction contracts for a state-wide public owner and multi-billion dollar microchip manufacturing facility owner; (v) negotiating construction contracts in Mexico, Saudi Arabia and throughout the United States; (vi) serving as a panel construction arbitrator for the American Arbitration Association; (vii) successfully appealing cases with state-wide implications to the highest court in New York State for a state-wide association; and (viii) numerous successful federal and state bench trials, jury trials and arbitrations on a wide variety of construction and commercial claims.
Jim's experience also includes litigating claims arising out of the construction and operation of power generation facilities and prosecuting tax assessment cases resulting in tens of millions in tax savings to power plant owners.
Reported Cases
Burt Welding & Auto. Repair, Inc. v. U.W. Marx, Inc., 272 A.D.2d 737
Church v. Callanan Indus., 99 N.Y.2d 104
City of Utica v. New York Susquehanna & W. Ry. Corp., 46 A.D.3d 1355
C&P Partners v. Dep't of Assessment & Taxation, 192 Misc. 2d 139
Crucible Materials Corp. v. N.Y. Power Auth., 13 N.Y.3d 223
FTP Inc. v. Air Response, Inc., 280 A.D.2d 751
Hills V. LaGroup-Landscaping Architecture & Eng'g P.C., 268 A.D.2d 752
JRDM Corp. v. U.W. Marx, 252 A.D.2d 854
KSW Mech. Servs. V. Johnson Controls, Inc., 992 F. Supp. 2d 135
Matter of New York Regional Interconnect Inc. v. Oneida County Indus. Dev. Corp., 21 Misc. 3d 1118(A)
Mirant Ams. Energy Mktg. LP v. 1st Rochdale Coop. Group, Ltd.363 F. Supp. 2d 679
N.Y. Charter School v. Smith, 15 N.Y.3d 403
Orange & Rockland Utils., Inc. v. Assessor of Haverstraw, 4 Misc. 3d 1005(A)
Sheet Metal Div. v. Local 38 of the Sheet Metal Workers Int'l Ass'n, 45 F. Supp. 2d 195
Trystate Mech., Inc. v. Macy's Retail Holdings, Inc. 94 A.D.3d 1095
Trystate Mech., Inc. v. TEFCO, LLC, 94 A.D.3d 1098
U.W. Marx, Inc. v. Bonded Concrete, Inc. 7 A.D.3d 856
U.W. Marx, Inc. v. Mountbatten Sur. Co., 3 A.D.3d 688
Zandri Constr. Corp. v. Wolfe, 291 A.D.2d 625
---
Hinckley, Allen & Snyder LLP
As a firm, we have stood the test of time thanks to an ability to adapt—and a drive to stay ahead-of-the-curve regarding developments and innovations within the industries and disciplines we serve. Recognized as an Am Law 200 firm, Hinckley Allen has been a vital, relevant force in businesses, government, and our communities since 1906.
At Hinckley Allen, we make a simple promise to our clients: to provide value and deliver results. This allows us to focus on your business goals with sound, strategic thinking, and tireless advocacy. We strive to be your advisor, creating long-term client relationships across a wide range of industries.
Our clients place great trust in us. We are often considered an extension of their management teams. We are relentless, intently following industry developments and changing markets in order to increase our value and effectiveness. For every client, we focus on providing solutions that measurably contribute to long-term success.