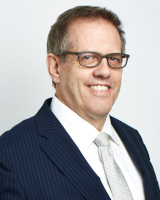 James Kennedy
Firm: James W Kennedy PLLC
Location: New York - NY
401 Broadway, Suite 1900




New York, NY 10013




USA
Tel : (212) 899-3400

Fax : N/A

Email : jim@jameswkennedypllc.com

An accomplished trial and appellate lawyer, Jim Kennedy has won hundreds of millions of dollars for his clients, including large businesses and entrepreneurs, and successfully defended clients in significant commercial matters.  His firm, James W. Kennedy PLLC, handles a select number of important matters that warrant the hands-on attention of an experienced and well-rounded commercial litigator, across a wide range of subject matters. His diverse background includes disputes involving commercial contracts, real property, fraud, mortgage-backed securities, patents, trade secrets and other intellectual property, franchising, restrictive covenants, shareholder rights, partnership obligations, fiduciary duties and employment law.  Jim combines Big Firm excellence (derived from his nearly 20 years of experience in top-tier firms, including more than a decade as a partner at Paul Hastings) and business acumen (honed during his nearly two decades of work in boutique litigation firms bearing his name).
Jim first gained invaluable appellate experience while serving as Law Secretary to the Honorable Bernard S. Meyer, then Senior Associate Judge of the Court of Appeals of the State of New York, nearly 40 years ago.  Since then, he has argued appeals, in New York, before the intermediate Appellate Division and the Court of Appeals and, in California, before the Court of Appeals of the State of California.  Jim has briefed appeals before various federal courts, including the Supreme Court of the United States, the United States Court of Appeals for the Second, Third, Fifth and Ninth Circuits and for the Federal Circuit.
Jim's trial experience serves him well in his appellate work.  As lead trial counsel, Jim won a Bench trial in the San Francisco Superior Court and a directed verdict in a related jury trial in a Nebraska state court, each worth about $100 million dollars, in a contract and breach of fiduciary duties action brought against a Berkshire Hathaway company.  Together with his then partner, Jim recently won a New York state court Bench trial, in which the Court breached the "veil" of several corporations.  Jim has won arbitration hearings, including an extraordinary injunction preserving the exclusive territorial rights of a Gianni Versace franchisee in Los Angeles; a money award arising from the defective installation of HVAC systems in a New York townhome and an award denying a claim for delay damages arising from the construction of a U.S. defense facility in Germany.  As part of a large trial team, he also crafted and presented, during a four-month jury trial, Minolta Camera Co. Ltd.'s successful defense of misappropriation of trade secrets claims brought by Honeywell, Inc.
An aggressive advocate, Jim gives practical and candid advice, and remains focused on his clients' business objectives while preparing every case for trial.
Jim graduated cum laude from St. John's University School of Law in 1984.  His experience also includes several years as a litigation associate at Skadden, Arps; two years as an associate and partner at Milgrim, Thomjan & Lee, P.C. and nearly two decades as a founding partner at Kennedy Johnson Gallagher LLC and then Kennedy Berg LLP.
Pro Bono/Educational
Jim is the former First Vice Chair and General Counsel of the Board of Directors of Gina Gibney Dance, Inc., a not-for-profit company engaged in promoting dance and community action supporting survivors of domestic violence (for whom he continues to provide pro bono services). In late 2013, Jim negotiated on the company's behalf a 20-year lease for 35,000 square feet of space in an historic building in Lower Manhattan. He is also guest lecturer on intellectual property law at Columbia University's Masters of Science and Technology program.
Education
J.D., St. John's University School of Law, 1984
B.A., Rider University, 1978
Admissions
All N.Y. State Courts
United States District Court, Southern District of New York
United States District Court, Eastern District of New York
United States Court of Appeals for the Second Circuit
United States Court of Appeals for the Third Circuit
United States Court of Appeals for the Fifth Circuit
United States Court of Appeals for the Federal Circuit
Supreme Court of the United States
---
James W Kennedy PLLC.
Even in large, complex cases, our intensive partner involvement provides a cost and strategic advantage over the more institutional firms we often oppose, as our entire trial team masters every detail in the case. We pride ourselves in being creative thinkers who offer frank and independent advice on a wide array of complex business disputes. As skilled trial and appellate lawyers, we prepare every case as though it will be tried, while also developing strategic and favorable opportunities for settlement. We use motion practice, as appropriate, to gain strategic advantages, not to increase legal fees. We are adept at preparing our clients to be effective witnesses in depositions and in court. Our team is determined and pragmatic, keeping in mind the big picture while mastering the details of each case.