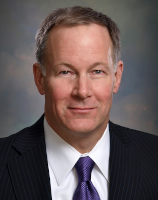 James W. Hundley
Firm: Briglia Hundley, P.C.
Location: Tysons - VA
1921 Gallows Road, Suite 750




Tysons Corner, VA 22182




USA
Tel : 703.883.0880

Fax : 703.883.0899

Email : N/A

Mr. Hundley also has extensive appellate experience. In April 2000, he was privileged to appear before the Supreme Court of the United States and argue the case of Dickerson v. United States in which the Court ruled that the well-known Miranda warnings are required by the United States Constitution and cannot be repealed by legislation. Dickerson v. United States, 530 U.S. 428 (2000).
Mr. Hundley graduated from the Georgetown Law Center and gained admission to the Virginia State Bar in 1989. During his first year of practice, Mr. Hundley served as law clerk to the Honorable James C. Cacheris in the United States District Court for the Eastern District of Virginia. Upon completing his clerkship, Mr. Hundley joined the Office of the Commonwealth's Attorney for Fairfax County, where he served as an Assistant Commonwealth's Attorney until December 1996. In January 1997, Mr. Hundley co-founded Briglia Hundley.
Mr. Hundley has received the Martindale-Hubbell Law Directory's highest rating of "AV." He is recognized as a top attorney by Super Lawyers in the field of criminal defense and by Best Lawyers in the field of white-collar criminal defense.
Mr. Hundley is an active member of the Virginia State Bar. He has served on the Virginia State Bar's Committee on Lawyer Discipline since his appointment in July, 2014. From 2005 to 2011, Mr. Hundley served as an elected member on the Virginia State Bar's Disciplinary Sub-Committee for the Fifth District. He also has been active in the Fairfax Bar Association, serving on its judicial screening committee, Circuit Court Committee, General District Court Committee, as co-chairman of its Legislative Committee, and as chairman of its Election Committee.
Mr. Hundley regularly lectures at Continuing Legal Education courses. He has also appeared as a guest lecturer at the Georgetown Law Center, the George Washington School of Law, the Catholic University School of Law, and the Washington, D.C. Inns of Court.
---
Briglia Hundley, P.C.
The conclusion of a trial is not always the end of a case. Both civil litigants and criminal defendants often continue pursuing their rights on appeal. Our attorneys have experience handling both civil and criminal cases at all levels of the state and federal courts inVirginia, Maryland, and Washington, D.C., including the Fourth Circuit, D.C. Circuit, and Supreme Court of the United States.
Whether you plan to pursue an appeal or work to have an appeal denied, we can help fully protect your rights. Our extensive experience in the trial and appellate courts of the Mid-Atlantic provides us with the necessary knowledge to navigate the appellate process.
We conduct a thorough investigation into the details of each appeal we handle, research legal issues attendant to the appeal, craft well-written briefs for submission to the court, and persuasively present our clients' positions to the court at oral argument.
Over the years, we've continued to find new ways to use our talents to assist our clients through the appeals process. While the mainstay of our practice is Virginia, Maryland and Washington, D.C., our federal litigation team monitors developments in federal law and practice and provides invaluable assistance in instances where our attorneys seek further relief through federal habeas corpus and federal civil remedies.