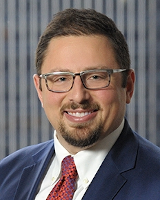 Jonah M. Knobler
Firm: Patterson Belknap Webb & Tyler LLP
Location: New York - NY
1133 Avenue of the Americas




New York NY 10036




USA
Tel : 212-336-2134

Fax : 212-336-2222

Email : jknobler@pbwt.com

Jonah M. Knobler is a partner at Patterson Belknap Webb & Tyler LLP in New York City.  Mr. Knobler brings his creative thinking and compelling writing to bear in helping his clients achieve precedent-setting appellate victories.  Mr. Knobler has briefed and/or argued appeals in federal and state intermediate courts, state courts of last resort, and the U.S. Supreme Court.  Highlights include:
Mr. Knobler also has a diverse docket at the trial-court level, focusing on class action, false advertising, consumer protection, civil RICO, product liability, and copyright/trademark litigation on behalf of leading national and global corporate clients.  His active pro bono practice focuses on voting rights and LGBTQ+ rights.  Mr. Knobler recently founded and co-edits Patterson Belknap's food, drug, and cosmetic false advertising blog, Misbranded.
ADMISSIONS
U.S. Supreme Court
U.S. Court of Appeals for the First, Second, Fourth, Sixth, Seventh, Eighth, Ninth, Tenth, and Federal Circuits
U.S. District Court, Southern and Eastern Districts of New York
New York
HONORS:
Common Cause "Defender of Democracy"
New York Law Journal "Rising Star"
National LGBT Bar Association "Best LGBT Lawyers Under 40"
Benchmark Litigation "Under 40 Hotlist"
Super Lawyers "Rising Star"
---
Patterson Belknap Webb & Tyler LLP
A verdict at trial is rarely the final word. Appeals often follow, at times dramatically changing the outcome of a case. And a pending appeal can affect a company's stock price, reputation and bottom line.
Combining our national recognition in trial work involving advertising, antitrust, patents, copyrights, trademarks, products liability, white collar, and media with the experience of litigators who have successfully argued numerous landmark appeals, Patterson Belknap's appellate group makes a difference to businesses nationwide. Our firm represents clients in intermediate appellate courts and courts of last resort across the country, both federal and state—including the U.S. Supreme Court. Clients work not only with appellate practitioners having a track record of success, but also with practitioners deeply grounded in the subject matter of the appeal.
One of our greatest strengths—and one of the greatest advantages for clients—is that Patterson Belknap's lawyers actually try cases in addition to arguing appeals. For us and our clients, our work is about more than just theory—it's about application. Because we are in the courtroom regularly, we can call on our extensive first-hand experience with judges and knowledge of the rules and customs in federal and state jurisdictions across the country when setting appellate strategy. In addition, more than half of Patterson Belknap's litigators have held judicial clerkships, including many at federal and state appellate courts.
In addition to representing parties on appeal, Patterson Belknap has broad and deep experience preparing compelling amicus briefs in cases of importance to clients, industries, and the nation as a whole. We have prepared and filed dozens of amicus briefs before the U.S. Supreme Court in recent years, both pro bono and for commercial clients, on subjects ranging from civil rights to criminal procedure to intellectual property.