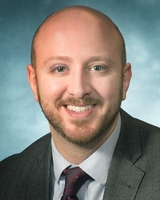 Jordan M. Tank
Firm: Lipe Lyons Murphy Nahrstadt & Pontikis Ltd
Location: Chicago - IL
230 West Monroe Street, Suite 2260




Chicago, IL 60606-4703




USA
Tel : 312-702-0586

Fax : 312-726-2273

Email : jmt@lipelyons.com

Jordan is a trial and appellate attorney who manages a docket of cases in which the total claimed damages exceeds several billion dollars. He has been named one of the top 100 civil defense litigators in Illinois; Leading Lawyers named him an Emerging Lawyer for commercial, civil appellate, and personal injury defense litigation; and Super Lawyers selected him for inclusion as a Rising Star for business, appellate, construction, transportation, and product liability litigation.
As a trial attorney, Jordan has represented his clients in jury and bench trials, evidentiary hearings, binding arbitrations, and hearings before administrative agencies. He has tried several cases to verdict in which the plaintiffs asked the jury to award more than $50 million in damages. The causes of action he has tried include antitrust, breach of contract, breach of fiduciary duty, civil conspiracy, eviction, fraud, insurance coverage, tortious interference, unjust enrichment, and personal injury and wrongful death claims arising out of construction, transportation, premises, and products-related accidents.
Jordan is the head of his firm's appellate practice and he has represented clients in numerous state and federal appellate courts on a broad range of procedural and legal issues. His appellate practice includes collaborating with other attorneys before and during trial to help them craft legal strategies, briefing critical issues, preserving issues for appeal, and handling post-verdict motions.
Jordan also regularly resolves cases for clients short of trial or appeal. His extensive experience before triers of fact and courts of review enables him to provide his clients with accurate opinions about their case's value and to outline the litigation process they will have to go through to achieve resolution.
Professional Activities/Recognitions:
Jordan is active in a number of professional and civic organizations, including:
Appellate Lawyers Association
American Law and Economics Association
Chicago Bar Association
Illinois Association of Defense Trial Counsel
International Society of Primerus Law Firms
American Mathematical Society
---
Lipe Lyons Murphy Nahrstadt & Pontikis Ltd
Lipe Lyons was founded after the five name partners, with decades of experience, departed from their former firm together in order to better serve their long-standing clients. The firm and its clients work in partnership to maximize the value afforded to each client and this dedication to service forms the foundation of every firm undertaking.
Our case handling philosophy is simple. We investigate and evaluate cases promptly and accurately. We work closely with our clients in order to determine the most effective and efficient.