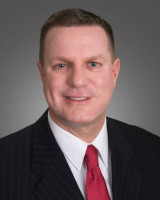 Joseph M. Busher Jr.
Firm: Jackson O'Keefe
Location: East Haddam - CT
51 Dolbia Hill Road,




East Haddam, CT 06420




USA
Tel : (860) 873-2994

Fax : N/A

Email : JMBusher@jacksonokeefe.com

Attorney Busher grew up in North Haven and currently resides in East Haddam with his family. Attorney Busher has a wide variety of litigation experience, principally addressing insurance defense, insurance coverage, personal injury and appellate matters throughout the State of Connecticut. He also represents individuals and businesses from the East Haddam, Moodus, Colchester, and Salem area with regard to personal injury matters, wills, trusts, and estate planning and litigation matters.
Attorney Busher is a partner with the firm and has been a member of the Connecticut bar for 20 years. He obtained a Bachelor of Arts degree, cum laude, from the College of the Holy Cross in 1993. He obtained his Doctorate of Jurisprudence with honors in 1996 from the University Of Connecticut School Of Law, where he also received the Cornelius W. Wickersham, Jr. Award for Constitutional Law and the American Jurisprudence Award for Constitutional Law.
In addition to litigation experience, Attorney Busher has concentrations in insurance coverage and appellate practice. His concentration in insurance coverage analysis and litigation focuses on helping insurers effectively address coverage issues in an expeditious and cost-conscious manner, and includes providing coverage opinions, the preparation of declaratory judgment and other complaints, as well as discovery and motion practice. He brings the same best-practice, cost-effective, proactive and strategic approach to all litigated matters. His concentration in appellate practice includes the researching and drafting of over 50 briefs and appellate motions, and argument before Second Circuit Court of Appeals in New York and the Connecticut Supreme and Appellate Courts.
Attorney Busher has also served as a guest lecturer on the law at Nathan Hale-Ray High School in East Haddam. He is also a member of the East Haddam Business Association, which serves to promote local business.  He serves as a Member of the Board of Finance for St. Bridget of Kildare Church in Moodus.  He is also a member of the Moodus Knights of Columbus and an active member of the East Haddam Lions Club, and ran the Lion's Club annual town-wide auction from 2010 through 2018.  He has served as a member of one of East Haddam's political parties'  Town Committee since 2015.
---
Jackson O'Keefe
With offices in Southington and Wethersfield, Jackson O'Keefe, LLP is a highly-rated law firm, both by industry professionals and our clients. Among peers, Jackson O'Keefe has been AV-Rated by Martindale-Hubbell's Peer Review Rating Process. This is the highest peer-review rating available.
We are recognized in A.M. Best's Directory of Recommended Attorneys. Several of our attorneys have also been ranked among the top 5% of attorneys in Connecticut, and have been recognized as Connecticut SuperLawyers and New England SuperLawyers by Thomson Reuters, as published in Connecticut Magazine. The firm is also pleased to be recognized in the Bar Register of Preeminent Law Firms.
The firm is also an active participant in the Claims and Litigation Management (CLM) Alliance, and brings its best-practices approach to all potential litigation matters. Among clients, we have received many favorable reviews, earning us a 4.9 out of 5 star rating on Google.
We earn such ratings by serving you the way you expect to be served. We don't look at you as a number, and assign you to a secretary or paralegal for primary "handling". Your calls get through. Your questions get answered right away. We are a small firm of professionals. Every client's case is primarily handled by a partner-attorney throughout the process. Personal. Professional. Best practices. We carefully review developments in the law on a continual basis, to put your best case forward.