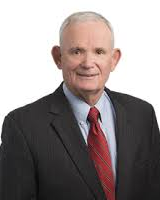 Karl Mulvaney
Firm: Dentons
Location: Indianapolis - IN
2700 Market Tower




10 West Market Street




Indianapolis, IN 46204
Tel : 1 317 968 5400

Fax : N/A

Email : karl.mulvaney@dentons.com

Karl practices in the areas of appellate, litigation and disciplinary law. He is a 1977 cum laude graduate of the Indiana University Robert H. McKinney School of Law. Mulvaney earned his undergraduate degree from The Ohio State University. He was admitted to the Indiana Bar in 1977 and is a member of the Indianapolis, Indiana State, Seventh Circuit and American Bar Associations. Mulvaney authored the article entitled: "Fundamental Change in Indiana Appellate Procedure or, What Happened To The Motion To Correct Error?" which received Res Gestae's Best Article Award in 1989. In August 2015, Karl was elected President Emeritus of the International Legal Honor Society of Phi Delta Phi.
Experience
Progressive Southeastern Insurance Co. v. Smith, 121 N.E.3d 128, Ind. 2019: Declaratory judgment coverage litigation.
Morrison v. Vasquez, et al., 124 N.E.3d 1217, Ind. 2019: Preferred venue opinion.
NOW!, Inc. v. Indiana-American Water Co., and City of Charlestown, 117 N.E.3d 647, Ind. Ct. App. 2018: Utility sale litigation.
Patchett v. Lee, 60 N.E.3d 1025, Ind. 2017: Recovery standards for medical expenses charged versus incurred.
SCI Propane, LLC v. Frederick, 39 N.E.3d 675, Ind. 2015: Wrongful Death Statute.
WESCO Distrib., Inc. v. ArcelorMittal Ind. Harbor LLC, 23 N.E.3d 682, Ind. Ct. App. 2014: Subrogation recovery in major steel mill accident.
Ind. Gas Co. v. Ind. Fin. Auth. & Ind. Gasification, LLC, 999 N.E.2d 63, Ind. 2013: Represented the Indiana Finance Authority and Indiana Gasification in attempt to build $2.8 billion coal gasification project near Rockport, Indiana.
Gagan, et al. v. Yast, 966 N.E.2d 177, Ind.Ct.App. 2012: Defamation action.
French v. State Farm Fire & Casualty Co., 950 N.E.2d 303, Ind. App. 2011: Coverage dispute after insurer paid to replace manufactured home with identical unit, but insured wanted higher priced stick-built home.
Weinreb v. TR Developers LLC, 943 N.E.2d 856, Ind.Ct.App. 2011: Appeal re guarantee and belated claim documents were not signed by guarantor.
City of Greenwood v. Town of Bargersville, 930 N.E. 2d 58, Ind. App. 2010: Annexation dispute.
Kovach v. Caligor Midwest, et al., 913 N.E.2d 193, Ind. App. 2009: Alleged defect in medicine cup product liability action.
Outback Steakhouse v. Markley, 856 N.E.2d 65, Ind. 2006: Appeal premised on issue of discovery misconduct.
Kroger v. Stanton, Ind. Ct. App. 2001, Cause No. 49A02-9912-CV-00883: Represented Kroger on appeal asking Indiana Court of Appeals and Indiana Supreme Court to adopt a comparability analysis for determining if damage verdicts are excessive in personal injury case.
Epperly v. Johnson, 734 N.E.2d 1066, Ind. Ct. App. 2000: Represented defendant-appellant in appeal of compensatory and punitive damages involving allegations of breach of contract and fraud.
Boggs v. Tri-State Radiology, 730 N.E.2d 692, Ind. 2000: Represented defendants-appellants in appeal which clarified opinion in Martin v. Richey.
Ford v. Ammerman, 705 N.E.2d 539, Ind. Ct. App. 1999: Transfer denied, cert. denied. Represented plaintiffs/appellees on appeal; they sustained severe personal injuries from Bronco II SUV rollover; issues on appeal included Daubert, pre-emption, compensatory damages and punitive damages.
Indianapolis Athletic Club, Inc. v. Alco Standard Corp., 709 N.E.2d 1070, Ind. Ct. App. 1999, transfer denied. Defended product manufacturer charged with product defect through purported "process of elimination" theory with fire that caused death substantial damage.
Martin v. Richey, 711 N.E.2d 1273, Ind. 1999: Defended constitutionality of Indiana's Medical Malpractice Statute against arguments presented by Professor Laurence Tribe.
First Bank of Whiting, n/k/a Centier Bank v. Schuyler, 692 N.E.2d 1370, Ind. Ct. App. 1998, transfer denied: Represented Centier Bank where a jury awarded compensatory and punitive damages for alleged failure to disclose a water backup in connection with the sale of repossessed property.
Shell Oil Company v. Meyer, et al., 684 N.E.2d 504, Ind. Ct. App. 1997: Represented Shell Oil Company in Underground Storage Tank litigation.
Bush v. SECO Elec. Co., 118 F.3d 519, 7th Cir. 1997: Represented plaintiff who sued electrical contractor hired by employer challenging subcontractor acceptance theory.
Barth v. Barth, 659 N.E.2d 559, Ind. 1995: Represented closely held corporation in suit by minority shareholder.
Baxter v. Vigo County School Corporation, et al., 26 F.3d 728, 7th Cir. 1994: Represented school corporation in appeal regarding child's first amendment rights involving T-shirt messages.
---
Dentons
Dentons provides its clients with some of the best, most seasoned appellate advocates in the United States. Our appellate litigators have briefed and argued more than 500 cases before the US Courts of Appeals in every circuit, and state supreme courts and intermediate appellate courts. Our appellate team includes former US law clerks to appellate judges on the federal and state benches, as well as former government officials at the US Department of Justice and US Attorneys' offices.
What distinguishes our Appellate practice is that most of our appellate lawyers are also experienced trial lawyers, which ensures that they have a firm grasp of a case, from the moment a client first meets with counsel, through pleadings, pre-trial proceedings, trial and appeal. We enhance our appellate practice and advocacy through a thorough understanding of your business, and of the proceedings in the trial court or administrative agency where your case began.
Clients regularly turn to us to take over cases heading for the US appellate courts. Clients who were represented by Dentons at the trial level stay with Dentons for their appeals. In both situations, our appellate litigators bring to bear the deep experience, specialized knowledge and sound judgment needed to overturn an adverse ruling or preserve a victory in high-stakes litigation involving the most complex issues. Dentons is also frequently retained to file amicus curiae briefs and enlist amicus support on issues of importance, including in the US Supreme Court.
Dentons' appellate expertise is especially valuable in substantive areas of law in which our firm has been recognized nationally in the US, including:
Class Action Defense
Competition and Antitrust
Energy
Financial institutions
First Amendment
Insurance
Intellectual Property
Life Sciences and Health Care
Native American Law and Policy
Privacy
Restructuring, Insolvency and Bankruptcy
Technology