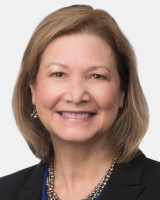 Katherine E. Giddings
Firm: akerman
Location: Tallahassee - FL
201 East Park Avenue Suite 300




Tallahassee, FL 32301




USA
Tel : 850 425 1626

Fax : 850 222 0103

Email : katherine.giddings@akerman.com

A formidable appellate litigator, Kathi Giddings has represented clients in numerous high-stakes civil and administrative appeals and bar ethics and professional liability issues in state and federal courts nationwide. She has twice been named "Lawyer of the Year" for Appellate Practice by Best Lawyers in America and is ranked one of the "Top 250 Women in Litigation in the United States" by Benchmark Litigation. Chambers USA notes that she "is regarded as an outstanding attorney with many years of experience," and "is extremely personable and a down-to-earth individual."
Kathi's diverse appellate work ranges from a sanctions appeal arising out of an oil and gas venture, in which claimed damages were $1.15 billion, to one disputing the legality of the Florida Department of Revenue's statewide tax on commercial leasehold improvements. Kathi has represented market leaders from numerous sectors in appellate matters, including satellite television, retail, insurance, real estate, and healthcare.
In conjunction with her appellate practice, Kathi monitors in-house counsel and related litigation management issues nationally. This includes issues governing the tripartite relationship between insurers, insureds, and defense counsel; bad faith; and the unauthorized practice of law. She also serves as national ethics counsel for a number of major insurance companies and has appeared throughout the country in cases involving ethical issues impacting her insurance clients.
Before entering private practice, Kathi served as a staff attorney to Florida Supreme Court Justice Ben F. Overton for seven years. She is a past chair of the Florida Rules of Judicial Administration Committee, which governs administrative matters in all Florida appellate and trial courts. Kathi is also a past chair of the Appellate Court Rules Committee, served as a steering committee member for several editions of The Florida Bar's Appellate Practice CLE Manual, is a trustee of the Eleventh Circuit Court of Appeals' Historical Society, and previously served a four-year term on the First District Court of Appeals Judicial Nominating Commission via appointment by the governor.
---
akerman
Cases that go to appeal face a new, distinct set of legal challenges, requiring a thorough understanding of the law and appellate procedure as well as the mindset of a judicial audience. Whether seeking to preserve a trial victory or overturn an adverse decision, lawyers must navigate complex appellate rules, select the right issues and arguments to advance, write briefs that focus on what matters most to appellate judges, and craft oral arguments that compel a successful outcome.
With a bench that includes one of the largest groups of former appellate judges in the U.S., Akerman's appellate practice is a national powerhouse with demonstrated success in handling appeals related to complex commercial litigation. Our judicial background gives us deep, first-hand knowledge of appellate court proceedings and the experience necessary to structure appellate arguments simply, clearly, and effectively.