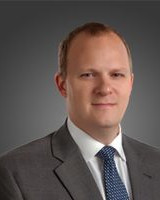 Kyle D. Gooch
Firm: Harris Beach PLLC
Location: Pittsford - NY
99 Garnsey Road




Pittsford, NY 14534




USA
Tel : (585) 419-8844

Fax : N/A

Email : kgooch@harrisbeach.com

Kyle D. Gooch is an experienced litigator focusing on complex commercial litigation, including consumer class actions, trademark infringement litigation, false advertising disputes, and general commercial litigation. Over his career, which includes time at one of the world's largest law firms, based in New York City, he has represented a wide range of clients in the pharmaceutical, medical device, consumer products, food and beverage, and financial services industries.  Kyle has experience managing complex litigations pending before the Commercial Division in New York County as well as various other state and federal courts around the country.  Kyle also has substantial trial experience, including second-chairing a jury trial in New York Supreme Court and participating as a key member of trial teams in federal district court, federal bankruptcy court, and Delaware Chancery Court.  Kyle has experience in all aspects of litigation, including case assessment, motion practice, e-discovery, depositions, trial, and appellate practice.
Kyle's pro bono practice has included representing custodial parents in child support proceedings in Family Court and representing applicants in Supplemental Security Income proceedings.
Representative Matters
Represented one of the nation's leading food and beverage franchisors in defending a putative nationwide consumer class action in the U.S. District Court for the Eastern District of New York, alleging that certain of the franchisor's food products were deceptively labeled.
Represented a medical device manufacturer in a trial in Delaware Chancery Court against the client's former U.S. distributor.  The manufacturer prevailed at trial in proving that the distributor breached the parties' agreement by developing a replacement product.
Represented an ad hoc group of term loan lenders holding $1.1 billion in loans in obtaining summary judgment to block the borrower's proposed exchange offer.
Represented a cosmetics manufacturer in defending a putative nationwide consumer class action in the U.S. District Court for the Southern District of New York, alleging that the manufacturer's skincare products failed to perform as advertised.  The plaintiff's motion for class certification was denied.
Represented an investment bank in successfully defending an action in Supreme Court, New York County, alleging fraud and negligent misrepresentation in a transaction in which the bank acted as the seller's investment advisor.
Representing a leading lighting control company in a false advertising suit concerning "Made in the USA" statements made by a competitor.
Represented a contact lens manufacturer in a false advertising dispute before the National Advertising Division of the Council of Better Business Bureaus concerning the labeling of store-brand contact lens solutions.
Represented a leading candy company in a number of trademark registration proceedings, trademark infringement actions, and other trademark disputes.
Represented a minority shareholder of a chain of high-end New York City hair salons in an action for fraud and breach of contract against the majority shareholder.  Kyle second-chaired a jury trial in Supreme Court, New York County, which resulted in a multimillion dollar verdict for the minority shareholder, including a substantial award of punitive damages.
Represented a former shareholder of Harbinger Inc. in a proceeding against the company's former outside directors under Section 11 of the Securities Act of 1933.
---
Harris Beach PLLC
Harris Beach believes in solutions. Through the strategic application of our resources, relationships, and legal expertise, we build the right team to get the job done for our clients – efficiently and cost-effectively. We take pride in crafting innovative, holistic and practical solutions to our clients' pressing challenges.
Every person at Harris Beach is committed to being accessible, productive, responsive and technologically sophisticated to provide the utmost value to our clients. We stand behind our mission: "Creating Client Solutions that Exceed Expectations."
Our culture of understanding, compassion and respect for each other naturally carries through to our relationships with our clients. Harris Beach believes in the fundamental dignity of each individual and every employee is valued for his or her unique experiences and perspectives. The rich diversity of our workforce, which reflects the communities we serve, enhances our work environment and the legal solutions we provide our clients. We listen to others and are responsive when others need assistance.