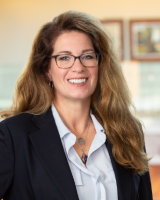 Laura (Megan) Faust
Firm: Roetzel & Andress
Location: Akron - OH
222 South Main Street Suite




400 Akron, OH 44308




USA
Tel : 330-849-6617

Fax : 330-376-4577

Email : lfaust@ralaw.com

Ms. Faust has represented domestic and overseas insurers for over two decades with a focus on complex coverage counseling and litigation, as well as bad faith litigation, including first party and third party matters, involving employment liability, environmental, asbestos, toxic torts, construction, homeowner's, automobile liability, life and disability as well as professional liability issues. She handles cases throughout Ohio and nationwide. Ms. Faust also has extensive experience handling appellate cases from advising trial counsel to briefing and arguing before the Ohio Supreme Court and Federal Courts of Appeal. Ms. Faust believes that a well-informed client is the best partner and therefore spends considerable time presenting workshops to client organizations and conferring with individual client management.
Experience
Nationwide representation of major corporate clients and insurance company clients on various coverage issues, litigation, and bad faith, including:
Resolution and management of environmental insurance recovery litigation involving multiple historical primary, umbrella and excess liability insurers.
Successful Federal Court litigation and Sixth Circuit Court of Appeals representation of commercial insurance carrier in coverage dispute arising from sexual harassment lawsuit.
Successful representation of professional liability insurance carrier in coverage litigation and appeal arising from alleged malpractice claims.
Negotiation of favorable settlement in connection with environmental insurance policies.
Litigation and resolution of multiple insurance coverage claims involving allegations of defective construction and issues relating to indemnities and additional insureds.
Nationwide representation of insurance company clients on coverage matters, extra-contractual, bad faith and litigation, across all lines of coverages.
Extensive trial work and appellate practice throughout Ohio, as well as the Sixth and Eleventh Circuit Courts of Appeals.
---
Roetzel & Andress
Roetzel is a full-service law firm with offices located throughout Ohio, Florida, and Chicago. The firm provides comprehensive legal services to national and international corporations, closely held and family-run businesses, institutions, organizations and individuals.
Since 1876, our firm has been guided by the core values of innovation, client service, integrity, and excellence in practice. Over the years, the firm has strategically grown in breadth, depth, and strength of legal services offered, and its geographical reach in response to an ever-expanding client base and scope of legal needs.
Successful partnerships require mutual respect, a shared understanding of expectations, and a steadfast commitment to achieving the goal. Our commitment to excellence in client service includes investing the time to listen to our clients and thoroughly understand not just their legal issues, but also their organizational structure and business goals. This, in turn, allows us to provide better counsel and offer our clients practical insight in matters that may affect their business. Roetzel's entrepreneurial philosophy encourages our attorneys to think like our clients – with business minds, ready to embrace new challenges and implement innovative approaches.