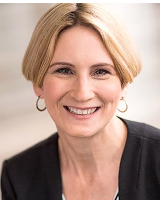 Laurie J. Hepler
Firm: Greines, Martin, Stein & Richland LLP.
Location: San Francisco - CA
50 California Street, Suite 1500




San Francisco, California 94111




USA
Tel : 415 315 1774

Fax : N/A

Email : lhepler@gmsr.com

Laurie Hepler is a leading San Francisco appellate lawyer, who collaborates with clients to address all aspects of the appellate process objectively and strategically.  For almost 30 years, Laurie has helped trial counsel, corporate counsel, insurers and individuals keep their wins, reverse their losses, and develop the law. Successful first- and second-chair trial experience back up her appellate expertise.
Clients retain Laurie in state and federal courts throughout California and the U.S.  She has briefed and argued countless California appeals, including three California Supreme Court wins, and has argued in the highest courts of two other states and several federal circuits.
Laurie has been honored with two prestigious California Lawyer Attorney of the Year ("CLAY") Awards, in 2000 and 2013.  Since 2005, she has been certified as an Appellate Specialist by the State Bar of California, and she is an officer of the highly selective California Academy of Appellate Lawyers.  She is ranked by Chambers and Partners USA for California Appellate Law, and in 2020 was elected as a Fellow of the American Academy of Appellate Lawyers.
Her clients' appellate matters span a wide range of subjects, including employment, product liability, insurance coverage, contract disputes, personal jurisdiction, and unfair competition.  But the subject counts less than the forum: appellate courts know Laurie, and she knows them.
She is Contributing Editor for the leading treatise on California appeals—Eisenberg, Cal. Practice Guide: Civil Appeals and Writs (The Rutter Group).
Laurie's community service includes running a volunteer group that makes hundreds of bagged meals per month for Samaritan House. Her years leading this wonderful team have produced nearly 30,000 meals.
Education
J.D., UCLA School of Law (1992).
B.A., University of Pennsylvania (1988). Magna cum laude, Phi Beta Kappa.
Honors
Ranked by Chambers and Partners USA for California Appellate Law
Selected by California Lawyer as one of its "Attorneys of the Year" (2000 and 2013)
Bar Admissions
California 1992
U.S. Supreme Court
Numerous U.S. Circuit Courts of Appeals
All U.S. District Courts in California
---
Greines, Martin, Stein & Richland LLP.
Greines, Martin, Stein & Richland LLP (GMSR) has been one of the leading civil appellate firms in the country for more than 35 years. Founded in 1983 in Los Angeles by Irving Greines, the late Alan Martin, Martin Stein and Kent Richland as an appellate boutique, all of whom are intimately familiar with the appellate process and are outstanding writers and thinkers.
GMSR has handled cases in the United States Supreme Court, the Ninth Circuit, the California Supreme Court, every lower appellate court in California, and the Supreme Courts of Alaska, Maine, and Nevada. GMSR has been counsel of record in over 500 published decisions and in hundreds more unpublished decisions, and has represented amici curiae in many additional matters.
Although GMSR's practice is concentrated in the appellate courts, it serves its clients in the trial arena as well. Planning for an appeal often begins as early as drafting the complaint or answer, and sometimes even before that. Clients frequently engage the firm to assist trial counsel in specific areas, including the initial formulation of a case, briefing and arguing dispositive motions, developing legal theories and trial strategy, preparing trial briefs and jury instructions, and briefing and arguing post-trial motions in anticipation of an appeal.
The firm's practice is not limited to any particular substantive areas of the law. It represents clients—both plaintiffs and defendants—in diverse fields including constitutional law, civil rights, governmental torts and immunities, personal injury torts, insurance coverage and bad faith, complex business disputes, business torts, copyright, unfair competition, antitrust, RICO, securities, entertainment, environmental law, employment discrimination and wrongful termination, family law, bankruptcy and probate.