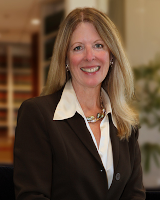 Lindsey H. Hughes
Firm: Keating Jones Hughes, P.C.
Location: Portland - OR
200 SW Market St., Suite 900




Portland, OR 97201




USA
Tel : 503-222-9955

Fax : 503-796-0699

Email : lhughes@keatingjones.com

Lindsey is an accomplished appellate attorney in state and federal courts in Oregon and Washington. In 2017 she was selected by Best Lawyers as the Lawyer of the Year in appellate practice in Portland. She also has an active trial practice defending hospitals and medical providers in tort and civil rights actions. Lindsey also defends attorneys and consults with and assists other lawyers in their active cases. Lindsey is a member of the Oregon, Washington, and Idaho State Bars. She is a Fellow of the American Academy of Appellate Lawyers. For many years she has been selected as an Oregon Super Lawyer in appellate practice and she is consistently named among Best Lawyers.
Lindsey chairs the Amicus Brief Committee for the Oregon Association of Defense Counsel and also serves on the Executive Board for the Litigation Section of the Oregon State Bar. She has also served by Oregon Supreme Court appointment on the Oregon Appellate Rules and the Oregon Trial Court Rules Committees.
Lindsey has authored chapters for Oregon State Bar and other publications, and she is a frequent speaker in continuing education programs about medical defense, appellate practice, civil procedure, and a variety of litigation topics.
Practice Areas
•    Appellate law
•    Medical malpractice defense
•    Legal malpractice defense
•    Healthcare and regulatory matters
Education
•    Willamette University College of Law
J.D., 1981 (cum laude)
•    University of Idaho – B.A., History, 1978
Bar/Court Admissions
    •    Oregon State Bar
•    Washington State Bar
•    Idaho State Bar
•    U.S. District Courts, Oregon, Idaho,
Western District of Washington
•    Ninth Circuit Court of Appeals
•    United States Supreme Court
•    American Bar Association
Committees/Boards (present and past)
•    Amicus Committee Oregon Association
Defense Counsel, Chair
•    Executive Board, Oregon State Bar Litigation
Section
•    Oregon Appellate Rules Committee
•    Oregon Uniform Trial Court Rules Committee
•    Board of Directors, Oregon Association of
Defense Counsel
•    Oregon State Bar Board of Examiners, former Chair
Professional Organizations
•    American Academy of Appellate Lawyers
•    Martindale-Hubbell Bar Register of
Preeminent Women Lawyers- Rated AV
Preeminent (Highest Possible Rating in Both
Legal Ability & Ethical Standards)
•    The Best Lawyers in America© – Appellate Practice, Selected 2008-2020
•    Oregon Association of Defense Counsel
•    Oregon Women Lawyers
---
Keating Jones Hughes, P.C.
Experienced representation in state and federal appellate courts in Oregon and Washington in all areas of law.
Highly respected as a leader among Oregon defense firms. With a focus on litigation, defending medical, healthcare and other professionals, our lawyers bring exceptional trial experience to the courtroom. Hospitals, physicians and other healthcare providers throughout Oregon and southwest Washington rely on us to solve their litigation needs and take even the toughest cases to trial. Our signatures communicate excellent legal work and results for our clients.