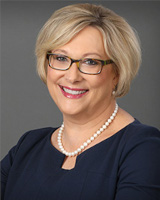 Katherine L. MacKinnon
Firm: Law Office of Katherine L. MacKinnon, PLLC
Location: St. Paul - MN
2356 University Ave West #230




St. Paul, MN 55114




USA
Tel : (952) 915-9215

Fax : N/A

Email : kate@katemackinnon.com

Kate MacKinnon thrives on telling a client's story with passion. She devotes her practice to representing people in employee benefit disputes (commonly called ERISA claims) and civil appeals in state and federal court. Kate graduated summa cum laude from Carleton College and cum laude from Northwestern University Law School in 1982 and 1985, respectively. She wrote for the Northwestern University Law Review and competed on the school's national moot court team to a second-place national finish. Kate taught legal writing and appellate advocacy at the University of Minnesota Law School for seven years. She has practiced since 1985.
Admitted to Practice
Minnesota (1985)
U.S. District Court, District of Minnesota (1990)
U.S. Court of Appeals, Eighth Circuit (1990)
Awards and Acknowledgements
2016 Cancer Legal Line Volunteer Attorney of the Year
2014 Minnesota Lawyer Attorney of the Year
AV Preeminent Peer Review Rated™ by Martindale-Hubbell®
North Star Lawyer, Minnesota State Bar Association (2013 – present)
100% Club member, Minnesota Women Lawyers
Named to the Minnesota Super Lawyers list (1998, 2000 – present)
Education
Northwestern University, School of Law, J.D., cum laude (1985)
Carleton College, B.A., summa cum laude, with distinction in English (1982)
Phi Beta Kappa
Professional Affiliations
Minnesota Women Lawyers (2018 – present)
University of St. Thomas, School of Law Mentorship Program
Mentor (2001 – present)
Appellate Practice Section, Minnesota State Bar Association (2000 – present)
Hennepin County Bar Foundation (1999 – 2011)
Hennepin County Bench and Bar Committee (1997 – 2000)
University of MN Law School
Adjunct Instructor (1996 – 2003)
Hennepin County Bar Association (1985 – present)
Minnesota State Bar Association (1985 – present)
Reported Cases
Stover v. Delta Air Lines, Inc., 2017 WL 4277144 (D. Minn. 9/25/17)
McGillivray v. Wells Fargo & Co. Salary Continuation Pay Plan, 2017 WL 3037557 (D. Minn. 7/18/17)
Larson v. Northwestern Mut. Life Ins. Co., 855 N.W.2d 293 (Minn. 2014)
Lanpher v. Metropolitan Life Ins. Co., 50 F. Supp. 3d 1122 (D. Minn. 2014)
White v. City of Elk River, 840 N.W.2d 43 (Minn. 2013)
Gordon v. Nw. Airlines, Inc. Long-Term Disability Income Plan, 606 F. Supp. 2d 1017 (D. Minn. 2009)
Doe v. Department of Veterans Affairs, 519 F.3d 456 (8th Cir. 2008)
Jenkins v. American Express Financial Corp., 721 N.W.2d 286 (Minn. 2006)
Alliant Techsystems, Inc. v. Marks, 465 F.3d 864 (8th Cir. 2006)
Abram v. Cargill, Inc., 395 F.3d 882 (8th Cir. 2005)
Hayes v. Kmart, Corp., 665 N.W.2d 550 (Minn. Ct. App. 2003)
Wolfe v. 3M Short-Term Disability Plan, 176 F. Supp. 2d 911 (D. Minn. 2001)
Webb v. AE&E, 617 N.W.2d 67 (Minn. 2000)
Community Leadership
Minnesota Supreme Court Historical Society, Board of Directors
Former Board Member
MacPhail School of Music, Board of Directors
Board Member (1994 – 2000)
St. John the Baptist Episcopal Church
Church choir member (1985 – present)
---
Law Office of Katherine L. MacKinnon, PLLC
Kate MacKinnon founded the Law Office of Katherine L. MacKinnon in 1996. The firm began in St. Louis Park, MN operating out of Kate's home. By 2016, however, with more staff than a home office could accommodate, the firm moved to its current location. Now in the historic Specialty Manufacturing Building located at Raymond and University Avenues in St. Paul, MN, we are conveniently located on the light rail Green Line.
Kate has spent more than 20 years advocating for working people who need help getting the benefits they deserve. Kate also has a keen interest in writing. She provides superior services for clients needing assistance with civil appeals.
Nicolet Lyon joined the firm in 2017. With her background in estates and trusts law, Nicolet's presence allowed us to expand our services to provide our employee benefit clients with assistance in estate planning as well.