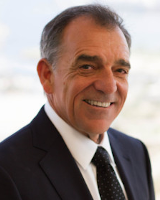 Neil Tardiff
Firm: Tardiff Law
Location: San Luis Obispo - CA
6699 Bay Laurel Pl # 1




Avila Beach, CA 93424




USA
Tel : 805.544.8100

Fax : 805.544.4381

Email : neil@tardifflaw.com

A certified specialist in appellate law, Neil has practiced law for almost 40 years. is and has extensive experience in a myriad of different areas of law. His work and contributions to the legal field and community at large have earned him continuous recognition and accolades in the legal field and beyond. After settling on the Central Coast in the 1990s Neil established Tardiff Law at its current location, next to the Avila Bay Athletic Club, which is owned by Neil and of which Tardiff Law serves as legal counsel.
Neil Tardiff is director of the pro bono program for the San Luis Bar Association and is on staff with the newly founded San Luis Obispo School of Law as clinical program coordinator. Neil and his son Dustin are both members of the Court Community Partners program, a panel of attorneys from around the community who provide assistance to self-represented litigants throughout San Luis Obispo County.
Honors/Membership/Service:
Certified Specialist in Appellate Law
Premier Appellate Lawyers, Featured Attorney (2023)
San Luis Obispo County Bar Association (2009 President)
2014 Circle of Service Award Recipient
Recognition by County Board of Supervisors for Creation of San Luis Obispo Pro Bono Program, Legal Services Hotline, and San Luis Obispo Lawline
Recognition by County Board of Supervisors for Exemplary Service to Children and Families in SLO County
Superlawyer – Top Attorney in California 2009
Superlawyer – Top Attorney in California 2010
---
Tardiff Law Offices
Tardiff Law was established in 1980 in San Luis Obispo and has seen several generations of experienced attorneys succeed and retire within its walls. It continues to be a Central Coast staple providing elite legal representation in San Luis Obispo and throughout California. Neil S. Tardiff has practiced law on the Central Coast for over 30 years and his son, Dustin M. Tardiff, a San Luis Obispo native, joined his practice in 2011. Tardiff Law has extensive appellate experience and has handled well over 100 jury trials since its inception with many published opinions. We specialize in Civil, Criminal, and Administrative Appeals and Writs and offer trial consultations, settlement evaluations, and the drafting of pre-trial and post-trial motions. We provide attorneys, corporate, government and individual clients with excellent litigation and appellate advice with 40 years combined trial and appellate experience in both State and Federal Courts. Located next door to the Avila Bay Athletic Club in Avila Beach, California, Tardiff Law is a full service law firm with deep roots in the Central Coast.
Tardiff Law also serves as legal counsel for: CASA, Court Appointed Special Advocates for Children, an organization devoted to supporting and promoting court-appointed volunteer advocacy for abused and neglected children; the Family Care Network, a local non-profit serving families and children for the purpose of creating family-based treatment programs as an alternative to group home or institutional care for children and youth; and for the San Luis Obispo Tourism and Visitor's Bureau – to name a few. Our work is our passion and we will always devote our time, effort, and expertise to making the Central Coast and California a better place.