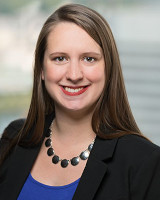 Nicole A.W. Abercrombie
Firm: Cable & Huston LLP
Location: Portland - OR
1455 SW Broadway Suite 1500




Portland, Oregon 97201




USA
Tel : 503-224-3092

Fax : N/A

Email : nabercrombie@cablehuston.com

Nikki Abercrombie is an associate in the firm's litigation group with a focus on business and commercial litigation, probate and trust litigation, and appeals.  She is licensed in Oregon and Washington and practices in both state and federal courts.  Prior to joining Cable Huston LLP as an associate in 2014, Nikki was a summer associate with the firm.
Nikki has been involved in a wide variety of matters in state and federal court, including breach of contract issues, corporate shareholder disputes, corporate internal investigations, construction defect and contractor disputes, insurance and surety issues, eminent domain issues, and CERCLA actions.  Nikki is also a member of the firm's probate and trust litigation group, where she uses her litigation background to handle any dispute that may arise relating to an estate plan, will, trust, or elderly family member.  Nikki has experience handling cases involving complex accounting and fiduciary issues related to closely held businesses, adult guardianships and conservatorships, will and trust contests, cases involving undue influence, and situations involving elder financial abuse.
Nikki has extensive experience in electronic discovery and complex discovery issues for high-volume document collection and review in both Oregon and Washington state courts, as well as federal court.  Nikki has substantial experience in legal research and writing, including drafting pleadings, briefs, demand letters, mediation statements, and memoranda.  She has first-chair arbitration experience, second-chair jury trial experience, and experience in depositions, mediations, and corporate internal investigations.  Nikki also has experience arguing motions in both state and federal court.
Nikki's appellate practice experience includes drafting briefs and assisting in preparation for oral argument in the Oregon Court of Appeals, Oregon Supreme Court, and Ninth Circuit.  She is an active participant in the Ninth Circuit's Appellate Pro Bono Program and has argued before the Ninth Circuit Court of Appeals.
---
Cable & Huston LLP
30 years ago, the earliest iteration of Cable Huston (pronounced, "Cable Houston") was formed with the express purpose of providing clients superior legal guidance without the overhead costs, hierarchy, and inaccessibility that are common at much larger law firms. In that time, largely through the generous word-of-mouth marketing of our clients, Cable Huston has grown into one of the strongest boutique law firms in the Pacific Northwest.
Cable Huston represents Oregon's largest companies, professional sports team, public utilities, and municipalities, while still providing full legal services to estates and individuals. We take great pride in our work and in the clients we have earned through that work. Over the last five years, the vision of Cable Huston's founders has been validated — the firm's focus on delivering top legal services without unnecessary costs has proven ideal for our private- and public- sector clients in the "new economy."
The key ingredient to Cable Huston's success is transparency and direct access. Our attorneys focus on the process of getting to know our clients' needs, motivations, and vulnerabilities so that we understand the contingencies they face and provide optimal solutions.