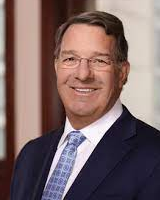 Philip S. Beck
Firm: BARTLIT BECK LLP
Location: Chicago - IL
Courthouse Place 54 West Hubbard Street




Chicago, IL 60654




USA
Tel : 312.494.4400

Fax : 312.494.4440

Email : philip.beck@bartlitbeck.com

Phil Beck is widely recognized as one of the leading courtroom lawyers (both trial and appellate) in the United States.  Although he primarily represents business entities, he has handled several other types of high profile cases.
Gore v. Bush, Phil headed George W. Bush's trial team in the Florida recount litigation that ultimately determined the 2000 presidential election.
In United States v. Microsoft, Phil represented the United States in the remedial phase of the Microsoft
Newsome v. McCabe, Phil won a record-setting damages verdict in a civil rights case involving the wrongful imprisonment of an innocent man for fifteen years.
Phil has a broad business litigation practice with particular emphasis on mass tort/product liability, intellectual property, commercial, and financial cases.
In the mass tort/product liability arena, Phil has been lead counsel in several federal MDLs, including Vioxx and Baycol, and has defended manufacturers before state court juries in plaintiff-friendly jurisdictions such as Philadelphia, Corpus Christi, St. Louis, Chicago, New Orleans, and Miami.  The National Law Journal has awarded him multiple Defense Verdicts of the Year.
The Best Lawyers publication recently named Phil as Chicago's top intellectual property litigator.  Phil has handled patent cases involving such diverse technologies as jet engines, industrial sanders, natural gas fracking, chemical compositions, treadmills, and medical diagnostic systems.
Phil has tried commercial cases in areas such as lender liability, antitrust, contracts, joint ventures, fraud, and insurance coverage.
Phil has represented several hedge funds and other corporate plaintiffs against major financial institutions. He has also handled several auditing cases and arbitrations for PwC, Ernst & Young, Deloitte & Touche, and, before its demise, Arthur Andersen.
---
BARTLIT BECK LLP
Bartlit Beck has an extraordinary record of success representing clients in high-stakes commercial litigation matters in mediations, arbitrations, and in state and federal courts across the country. We handle cases involving all areas of commercial litigation, including breach of contract, tortious interference with contract, breach of fiduciary duty, defamation/libel, acquisition-related issues, unfair trade practices, environmental issues, insurance coverage, environmental liability, consumer litigation, and class actions. Our commercial litigation clients span a broad spectrum of industries, including aerospace, agriculture, automotive, consumer products, financial services, healthcare, higher education, insurance, oil and gas, real estate, pharmaceuticals, and technology.
Our focus on and preparation for trial places clients in a position of strength – enabling us to try the case if necessary but also leverage our readiness to obtain a beneficial settlement.