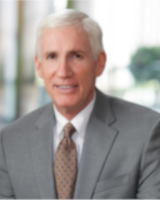 Scott A. Brister
Firm: Hunton Andrews Kurth
Location: Austin - TX
500 West 5th Street Suite 1350




Austin, TX 78701




USA
Tel : +1 512-320-9220

Fax : N/A

Email : scottbrister@HuntonAK.com

Scott is co-lead of the firm's Issues and Appeals practice group, and his practice includes all aspects of litigation.
He returned to the firm in 2009 after 20 years of judicial service at all levels of the Texas court system: six years on the Texas Supreme Court, three years as Justice and Chief Justice of the First and Fourteenth Courts of Appeals respectively, and eleven years as Judge of the 234th District Court. During those years he presided over 670 trials to verdict, and authored more than 600 appellate opinions, including 122 opinions of the Texas Supreme Court.
Judge Brister recently completed a further year of public service as chair of the Texas Commission on Public School Finance, a blue-ribbon panel of lawmakers and educators that presented landmark recommendations to the Texas Legislature for improving education for the state's five million students.
Scott is board-certified in civil appellate, civil trial and personal injury trial law. He previously served on the Supreme Court Advisory Committee and on the Supreme Court Jury Task Force. He is a co-author of Texas Pretrial Practice and has written law review articles in the Baylor, Oak Brook, South Texas, and St. Mary's law reviews.
Awards & Recognition
Recognized as a Acritas Star for outstanding performance (2018)
Recognized as a Leader in Litigation: Appellate, Texas, Chambers USA, 2010-2020
Recognized in the Top 50 Central/West Texas Lawyers, Super Lawyers by Thomson Reuters (published in Texas Monthly) (2015-2017).
Recognized as a "Local Litigation Star" in Texas by Benchmark Litigation (2012-2020)
Recognized as a "Local Litigation Star" in the 5th Circuit (Texas) by Benchmark Appellate (2013)
The Best Lawyers in America, Appellate Practice (2012-2020). A description of the selection methodology can be found on Best Lawyers' webpage.
Selected as a Super Lawyer for Appellate Law, Texas Monthly magazine, 2013-2020. A description of the selection methodology can be found on Super Lawyers' webpage.
Insights Events
Houston Bar Association Portrait Unveiling Ceremony for Hon. Scott Brister, November 18, 2019
Speaker, Client Service Curriculum: Litigation Skills Training Program – Pursuing & Defending Against Damages Claims, January 23, 2019
Form Contracts That Don't Mean What They Say: UT Law CLE: 2018 Conference on State and Federal Appeals, July 2018
Shut-ins: Savings or Termination? TexasBarCLE – Advanced Oil, Gas and Energy Resources Law, September 29, 2017
---
Hunton Andrews Kurth
With 1,000 lawyers in the United States, Asia, Europe and the Middle East, Hunton Andrews Kurth LLP serves clients across a broad range of complex transactional, litigation and regulatory matters. We are known for our strength in the energy, financial services, real estate, and retail and consumer products industries, as well as our considerable experience in more than 100 distinct areas of practice, including privacy and cybersecurity, intellectual property, environmental, and mergers and acquisitions. Our full-service litigation practice is one of the largest in the country, with particular depth in key litigation markets such as Texas, California, Florida and the Mid-Atlantic.
Since 1901 and our early history in Texas and Virginia, we have worked to uphold the standards set by our founding partners. These individuals built the firm on the principles of unsurpassed client service, adherence to the highest ethical standards, and sustained investments in our local communities and the legal profession. Their core values remain the hallmark of our firm, where we honor and learn from the lessons of the past while keeping our eyes firmly positioned on the future. Today, we serve as trusted advisors to some of the world's most respected companies—a number of whom we have represented for more than a century—and are vigorous advocates for those who need legal aid but cannot afford it.
Our clients include companies, individuals, governments and institutions from across the spectrum of industries that make up today's global economy. We represent nine of the Fortune 10 and more than one third of the current Fortune 100. To assist with their myriad legal and business needs, we work seamlessly across jurisdictions, bringing together cross-disciplinary teams with extensive industry, legal and strategic planning experience to devise tailored solutions that can overcome current challenges and mitigate future risks.
Hunton Andrews Kurth lawyers and practices are frequently recognized in Chambers USA, Chambers Global and Legal 500, as well as Bloomberg Capital Markets Rankings, Benchmark: Litigation and other legal guides.