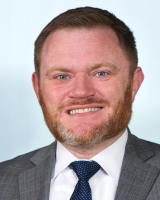 Steven M. Klepper
Firm: Kramon & Graham, P.A.
Location: Baltimore - MD
One South Street Suite 2600




Baltimore, MD 21202




USA
Tel : 410-752-6030

Fax : 410-539-1269

Email : sklepper@kg-law.com

A lead attorney in Kramon & Graham's appellate practice, Steve Klepper has more than 13 years of successful appellate experience handling civil and criminal cases before federal and state appellate courts.
Serving as lead appellate counsel or co-counsel, Steve has successfully advocated for clients in in complex matters involving commercial litigation, insurance coverage, real estate development, business torts, employment law, the Americans with Disabilities Act, premises liability, attorney-client privilege, and constitutional and civil rights.
Steve's practice focuses on all phases of civil and criminal appeals, including briefing, emergency appellate motions, oral argument, certiorari practice, and trial preservation. He works collaboratively with trial counsel to bring favorable final results in multi-million-dollar cases.
Steve joined Kramon & Graham in 2001 following a summer associate clerkship in 2000.
Recognition
Recognized in Chambers USA, Appellate, Maryland since 2023; Insurance, Maryland, since 2018
Featured Attorney Representing Baltimore Premier Appellate Lawyers 2023
Selected for inclusion in The Best Lawyers in America, since 2019
Recipient, Maryland Leadership in Law Award, The Daily Record, 2019
AV® Preeminent™ Peer Review Rated by Martindale-Hubbell
Recipient of DV LEAP, Tip the Scales of Justice Award, 2018
Service
Alumnae and Alumni of Goucher College, former President
Fourth Circuit Criminal Justice Act (CJA) Appellate Panel Committee, District of Maryland Representative
The GreenMount School, former Trustee
United States Court of Appeals for the District of Columbia Circuit, Criminal Justice Act Appellate Panel, Member
United States Court of Appeals for the Fourth Circuit, Criminal Justice Act Appellate Panel, Member
University of Virginia School of Law, Law School Foundation, Baltimore Regional Manager
Women's Law Center of Maryland, Board of Directors
Memberships
American Bar Association, Member; Tort Trial & Insurance Practice Law Journal, former Editor
DRI, Appellate Advocacy Committee, Member; Online Community, Co-Chair
Federal Bar Association, Member; Government Relations Liaison
Insurance Risk Management Institute, former Editor, CGL Reporter
Maryland Bar Foundation, Fellow
Maryland Criminal Defense Attorneys' Association, Member; Amicus Committee
Maryland State Bar Association, Member; Section Council, Section of Litigation, Former Member; Appellate Litigation Committee Co-Chair; Maryland Appellate Blog, Editor in Chief; Administrative Law Section, Member
Wednesday Law Club, Member
Events
Presenter, "You've Filed an Appeal – Now What??? A behind-the-scenes view from Chief Judge Wells, ADR Court Staff, and an experience appellate practitioner," Maryland State Bar Association Legal Summit & Annual Meeting, 2023
Presenter, "Critical Appellate Rule Changes and Writing Techniques That Every Trial Lawyer Should Know," Maryland Association for Justice, 2023
Presenter, "What D.C. Lawyers Should Know About Maryland Appeals," D.C. Bar Association, 2022
Presenter, "Appellate Practice Skills Program," at the St. Mary's County Bar Association, Maryland State Bar Association, 2022
Moderator, "Appellate Practice Tips from the Bench and Bar," Maryland State Bar Association Litigation Section and Young Lawyers Section, 2018
Moderator, "United States Supreme Court Term in Review," Maryland State Bar Association Annual Meeting, 2017, 2018, 2019, 2020, 2021, 2022
Moderator, "Maryland Impact Decisions," Maryland State Bar Association, 2017
Presenter, "Preserving the Appellate Record at the Trial Court," Maryland Legal Aid Appellate Advocacy Training, 2017
Presenter, "The Personal Divide Between Jefferson and Marshall," Wednesday Law Club, 2017
Presenter, "Mid-Construction Losses: The Intersection of Liability and Builder's Risk Coverage," 2016
Presenter, "Growing Your Appellate Practice, Both Within and Without," DRI Appellate Advocacy Program, 2016
Publications
Author, "Adnan Syed's Freedom Is at Risk Due to Hearing's Short Notice," Bloomberg Law, March 29, 2023
Co-editor, "Appellate Practice for the Maryland Lawyer" (5th ed.), Maryland State Bar Association, 2018
Author, "Larry Hogan Shows How Judicial Appointments Are Done," Editorial, Washington Post, 2022
Chapter Author, "Choice of Law for Coverage Disputes," General Liability Insurance Coverage: Key Issues in Every State (4th ed.), Maniloff & Stempel, Wolters Kluwer N.V., 2018
Author, "Mid-Construction Losses: The Intersection of Liability and Builder's Risk Coverage," The Brief, Volume 46 Number 2, American Bar Association, 2017
Author, "Uncertainty for Corporate America Under the Post-Scalia Supreme Court," In-House Defense Quarterly, DRI, Summer 2016
Author, "The Changing Certiorari Dynamic at the Supreme Court," Certworthy, Volume 17 Issue 1, DRI, 2016
Author, "Appellate Counsel: When It Makes Sense," Focus, Association of Corporate Counsel – Baltimore Chapter, 3Q, 2015
---
Kramon & Graham, P.A.
Since its founding, Kramon & Graham has been involved in some of Maryland's highest profile matters. When litigation concerns substantial economic claims, serious allegations of violations of federal criminal law, or important matters of public policy, chances are good that Kramon & Graham has been retained to represent a party in interest. The same is true in the context of important real estate development projects, like the redevelopment of the Clipper Mill industrial site, and insurance coverage issues of national importance, such as coverage for asbestos and construction claims.
We are privileged to represent some of the largest and most respected organizations and business leaders in the nation. Our lawyers have in-depth experience in a broad range of industries and practice areas in matters involving sophisticated business transactions and complex commercial, civil, and criminal litigation. As a firm, we have a well-established reputation for achieving client objectives effectively and efficiently, and a shared commitment to putting clients first.
Our work has drawn national and international attention from Chambers USA, Benchmark Litigation, Best Lawyers, Lawdragon 500, Martindale Hubbell, and other publications that rank and evaluate law firms. Through careful hiring practices, we have built a team that is highly collaborative and client-focused and that sets the bar for legal professionalism, diligent preparation, and hard work.