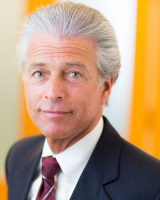 Steven R. Klein
Firm: Cole Schotz P.C.
Location: Hackensack - NJ
Court Plaza North




25 Main Street




Hackensack, NJ 07601
Tel : 201-525-6265

Fax : 201-678-6265

Email : sklein@coleschotz.com

As the co-chairman of the firm's Litigation Department, Steve combines a keen business acumen with zealous advocacy to consistently achieve the highest level of success in his litigation matters. Chambers U.S.A.: America's Leading Lawyers For Business describes him as "a key player in the New Jersey Bar" with "an active practice that spans a full range of corporate and commercial disputes, with a particular niche in real estate cases…Steven Klein can be brought in to deal with even the most difficult of cases, sources confirm, and he boasts a wide array of civil litigation experience. He is also a successful arbitrator and appellate attorney…Steven Klein is an adept practitioner before both state and federal courts. Sources describe him as 'a terrific lawyer and really solid guy who is very experienced and a very steady litigator.'" Benchmark Litigation has recognized Steve as a "local (New Jersey) litigation star."  No aspect of this advertisement has been approved by the Supreme Court of New Jersey.
Recognized in Chambers U.S.A. 2015: " 'Excellent attorney' Steven Klein is also cochair of the litigation practice, and continues to assist clients with significant and complex matters. He is a highly regarded figure in the commercial litigation space, well known for his ability to represent clients in all manner of disputes, whether at the state, federal or appellate level, as well as in arbitration proceedings."  No aspect of this advertisement has been approved by the Supreme Court of New Jersey.
Steve has been consistently awarded the highest ratings for his professionalism and the quality of his legal work. He has been lauded by Best Lawyers in America in the areas of "bet the company" litigation, commercial litigation, tax, labor and employment and trusts and estates litigation; New Jersey Super Lawyers in Business Litigation; and Martindale-Hubbell with an AV Preeminent rating. No aspect of this advertisement has been approved by the Supreme Court of New Jersey. See Award Methodology. He has been appointed by courts to serve as special fiscal agent, special officer, provisional director and custodial and/or liquidating receiver, arbitrator and mediator in major corporate and partnership disputes, and served as special litigation counsel for the New Jersey insurance commissioner in the Mutual Benefit Life Insurance Company rehabilitation proceedings. He has also served as an expert witness in attorney and accounting professional negligence matters.
Steve has brought his expansive litigation experience and talents to a broad range of clients in litigation matters in a multitude of industries. His litigation practice, in both federal and state courts, spans arbitration, mediation, discovery, motions, trials and appeals. His complex commercial practice includes an expertise in chancery matters as well as disputes involving statutory and contract claims, real estate, shareholder, partnership and limited liability company member actions, tax, probate, trusts and estates, environmental litigation, employment law disputes, director and officer liability, foreclosure and lender liability matters, surety and insurance disputes and construction.
EDUCATION
Duke University School of Law, J.D., 1981
State University of New York at Albany, B.A., summa cum laude, 1978
BAR & COURT ADMISSIONS
New Jersey, 1981U.S. District Court, District of New Jersey, 1981U.S. Court of Appeals, Third Circuit, 1982U.S. Court of Appeals, Second Circuit, 2013U.S. Court of Appeals, Federal Circuit, 2015
---
Cole Schotz P.C.
Cole Schotz, an Am Law 200 firm, provides legal services throughout the United States from its offices in New Jersey, New York, Delaware, Maryland, Texas, and Florida. We represent hundreds of businesses, large and small, and select individuals. Many have been clients for decades.
Our Appeals Practice Group attorneys provide appropriate guidance with a thorough knowledge of the appeals process, particularly in regard to how our client's case will be reviewed under the controlling standards that appeal tribunals apply to trial court decisions.
Once a client decides to appeal, success will depend upon skillful advocacy, including clear, convincing brief writing and the ability to advocate passionately for our clients' right before the appeals panel.  In the federal and state appeals courts, our appellate lawyers have attained an enviable track record in defending favorable results obtained at the trial level, and in reversing decisions where the trial courts have committed legal errors, thereby denying our clients the full benefit of their legal rights.
As staunch representatives of our clients' interest, we will:
File interlocutory appeals and stay applications
Identify and assess the strength of appealable issues
Determine applicable standards of review
File notices of appeal where appeal is matter of right from final judgments, arbitration orders and state agency actions
Petition for certification in state court when appeal to highest court is based on a question of public importance, a conflict exists among intermediate appellate courts or for special reasons
Petition for a writ of certiorari where appeal is from federal circuit courts of appeals to United States Supreme Court
Prepare appendices
Draft appellate briefs and motions
Prepare for oral argument and argue the merits before the appellate judges