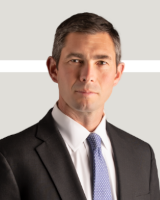 Stewart J. Greenleaf, Jr.
Firm: Elliott Greenleaf, PC
Location: Wilkes-Barre - PA
15 Public Square Suite 310




Wilkes-Barre, PA 18701




USA
Tel : (215) 977-1032

Fax : N/A

Email : SJGJr@elliottgreenleaf.com

Stewart J. Greenleaf, Jr., is a trial and appellate attorney with experience litigating multimillion-dollar complex commercial and business cases spanning diverse areas of law. He also represents clients before governmental and administrative agencies and handles matters requiring commercial arbitration under the American Arbitration Association rules.
Legal Experience That Stands Out
Stewart's litigation practice includes business torts, contract disputes, healthcare, constitutional claims, data breaches, and insurance coverage and bad faith cases. He represents clients in both the state and federal appellate courts and has successfully defended and overturned multimillion-dollar verdicts on appeal. In November 2011, Stewart was elected to a four-year term as Controller for Montgomery County, Pennsylvania. In that role, he oversaw the county's $400 million in annual expenditures, as well as its $500 million pension fund.
While earning his J.D. at American University Washington College of Law, Stewart served as president of the university's chapter of the Federalist Society for Law and Public Policy Studies from 2002 to 2003. After graduation, he clerked for President Judge Emeritus Stephen J. McEwen, Jr., of the Pennsylvania Superior Court.
Stewart represents child victims of abuse with the Montgomery Child Advocacy Project and teaches civics classes to sixth graders in our community schools.  Stewart is a former Director of Legal Aid of Southeastern Pennsylvania, a former Director of the Montgomery Bar Association, and a former President of its Trial Lawyers Section.  Previously, he served for six years as a hearing committee member for the Pennsylvania Supreme Court's Disciplinary Board. He also served as a member of the Upper Moreland Parks and Recreation Advisory Commission and as a Director of the Upper Moreland Free Public Library.
Representative Matters
Co-counsel for the owner of a country club and golf course resort company in a contract dispute against a national builder of residential communities, in which the jury awarded $20 million following a two-week trial.
Co-trial counsel for a regional healthcare system in a nursing home wrongful death case alleging corporate negligence and vicarious liability. After a four-week trial in the Philadelphia Court of Common Pleas, Stewart won a nonsuit ruling for the client.
Appellate counsel on oral argument preserving a $2 million jury verdict in a medical-device product liability case.
Co-counsel in a Pennsylvania Supreme Court case, winning reversal of Superior Court and trial court decisions, resulting in the enforcement of proper contract interpretation principles to reverse a $1.6 million judgment against the firm's client.
Counsel for an Episcopal parish, bishop, and church members in defending against defamation, breach of contract, and tort claims alleged by a former priest. Stewart won summary judgment on constitutional principles and subsequently defended the favorable judgment on appeal before the Pennsylvania Superior Court.
Appellate counsel in the U.S. Court of Appeals for the Third Circuit, successfully vacating the trial court's injunction against the firm's client.
---
Elliott Greenleaf, PC
Founded in 1990 by John M. Elliott, Elliott Greenleaf today stands strong with dedicated attorneys who are highly skilled at handling complex commercial legal matters of every sort.  We enjoy a hard earned reputation for representing our clients with aggressive and effective litigation strategies, sound business counseling, and multi-faceted solutions that address the constantly evolving legal, economic and business landscapes.
Our capabilities are enhanced by the experiences of our attorneys outside of the private practice of law. Elliott Greenleaf attorneys have served with distinction as elected officials in Pennsylvania state and local government, and have held key posts in state and federal government agencies. Our attorneys and former attorneys have also held positions as, or continue to serve as justices or judges in the Pennsylvania federal and state judiciaries. Many of our attorneys joined the firm after holding prestigious legal positions in private industry, or after serving judicial clerkships in federal or state courts.
Our philosophy is to build long-term relationships with our clients so that we can address their immediate legal needs, while proactively identifying and addressing legal problems before they manifest, while approaching our responsibilities efficiently and economically.